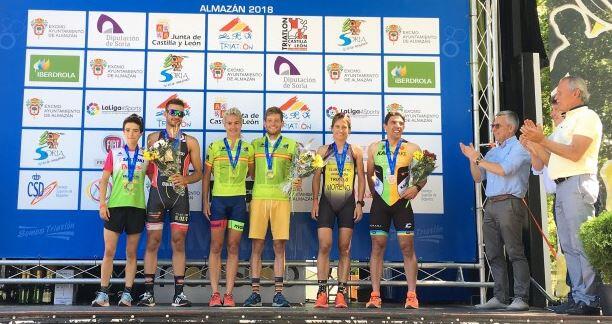 {wbamp-meta name = »image» url = »images / stories / news_08 / podium-championship-spain-duatlon-cross-2018.JPG» width = »300" height = »150"}
After the Spanish Championship of Cross Triathlon held in Almazán today was the Cross duathlon tour, where Rocío Espada and Camilo Puertas have achieved national titles
Camilo Puertas who was always at the head of the race, has achieved his longed for title of Champion of Spain. For the last segment the differences were small among the leading men, but Puertas, the most regular of the competition, was able to overcome in 20 seconds Jordi Montraveta, that had made a formidable segment of BTT. The third place would be for Jesus of the Morena that in the race on foot did not give option to Francesc Freixer.
In the women's race, the young Irene Loizate made an ambitious bet in the first sector, where she managed to dynamite the race with a vertiginous rhythm that allowed her to accumulate two minutes of rent on Sara Bonilla.
However, in the cycling sector, Rocío Espada He burst onto the scene with an overwhelming force, leaving alone and winning the Iberdrola Trophy of the day. Noemí Moreno was in second place while Loizate tried to minimize the damage. Already in the third segment, Espada took advantage of his income to sign a decisive victory, while in the race for second place Irene Loizate again took advantage of its quality on foot to relegate Noemí Moreno to third place and Marga Fullana out of the podium.
Source and photo Fetri
Price drop on Amazon
73,93 €
3 New From 247,89 €
98 Used From 73,93 €

Amazon.com
459,98 €
2 New From 459,98 €
6 Used From 409,65 €

Amazon.com
More discounts