Roger Roca and Marcel Zamora Top 10 in the Barcelona Half Marathon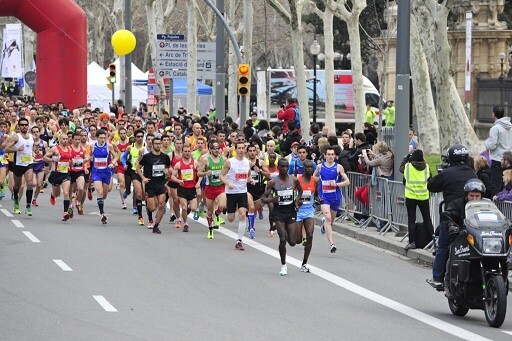 This morning, the Barcelona Half Marathon, with the presence of more than 17000 participants, where they have imposed the double Olympic medalist of the 5.000 meters Eliud Kipchoge with a time of 1h.00: 04 and the Ethiopian Atsede Baysa with a time of 1h.07: 34, setting both new test records
In this race they participated Roger Roca, Marcel Zamora y Xavi Torrades finishing among the first 10, demonstrating the great level of race that our triathletes / duathletes have.
Roger Roca was about to get into the podium, fighting to the end with Marc Roig who overtook him in just seconds 3 on the finish line.
Marcel Zamora finished in 8º position with a time of 1h.08: 47
Male Category
1 Eliud Kipchoge (KEN) 1h.00: 04 (NR).
2 Joseph Kimeli Lagat (KEN) 1h.01: 28.3.
3 Marc Roig (ESP) CA Laietania 1h.05: 07.
4 Roger Roca (ESP) Bikila 1h.05: 10.
5 Just Sociats (ESP) New Balance 1h.06: 55.
6 Albert Suárez (ESP) Marathon Oviedo 1h.07: 05.
7 Juan Bueno (ESP) At. Macotera 1h.08: 31.
8 Marcel Zamora (ESP) Compressport 1h.08: 47.
9 Otmane Benomar (MAR) CA Manresa 1h.08: 49
10 Xavier Torrades (ESP) CA Manresa 1h.08: 52