Triathlon News
Víctor del Corral and Clemente Alonso our strengths for the IRONMAN of Cozumel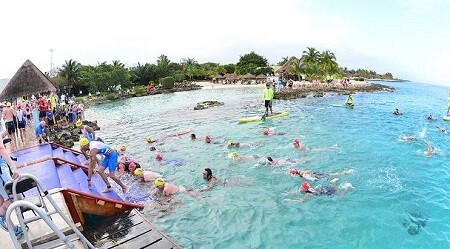 The 2012 Olympic Champion Nicola Spirig will debut in this distance
Tomorrow, 30, November, the IRONMAN from Cozumel where more than 2.500 triathletes from different countries 64 will participate in the test and that will have a large sign of professionals at the start. Eneko Llanos who will not participate in this test got the 3º put last year.
On the Spanish side, 4 are the triathletes who will participate in the elite category, Víctor del Corral that will seek to remove the bad taste of Kona, Clemente Alonso which seeks to continue adding points for its classification, Peru Alfaro Champion of Spain MD in 2013 and seventh last year, Gustavo Rodríguez, Champion of Spain MD and LD in 2014 that continues looking to add experience in IRONMAN tests.
In the men's category, the favorites for victory are Viktor Zyemtsev, Michael Weiss, Matt Chrabot, Victor Del Corral, Matt Russell, Max Kriat, Trevor Desault. Very to consider is Clemente Alonso that comes from winning in the IRONMAN from Barcelona and get a second place does 15 days in the IRONMAN of Arizona.
In the female category, the favorites are Nicola Spirig, Gold medal in the Olympic Games in 2012 and that will debut in this distance, Kelly Williamson, Michelle Vesterby, Jessie Donavan, Erika Csomor y Lucie Zelenkova.
Ivan Raña got the victory in 2012 in his debut in IRONMAN
The test will start the 6: 00 AM local time and can be followed live through the website: http://www.asdeporte.com/resultadoseventos/resultadosbasico.asp
More information: http://www.ironmancozumel.com
Photo: mcni.com.mx