Rosa Bravo and Gustavo Rodríguez won in the Poio Duathlon Cros qualifier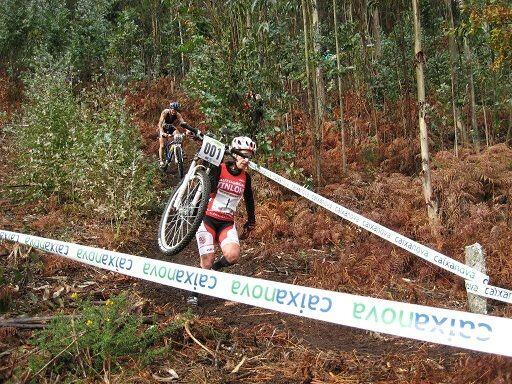 Rosa Bravo and Gustavo Rodriguez were proclaimed winners yesterday in the first Classification of Duathlon Cros that was held in Concello de Poio (Pontevedra), on a muddy and very slippery terrain.
Rosa Bravo (CD Ciclista Pisuerga) winner of the 2010 cros duathlon ranking and who the night before was collecting the trophy at the Spanish Triathlon Gala held in Madrid, declared herself the winner with a clear advantage of the second classified, Mª Belén Lemat (Cidade of Lugo Fluvial). The third position went to Flavia Juliet Coniglio (Tri.Arcade InformHouse Santiago).
In the male category, Gustavo Rodríguez (Cidade de Lugo Fluvial). In second place, and with a difference of 22 seconds, Juan José Amoedo (CC Monte Abaixo), third place on the podium went to Miguel Ángel Arias.
The winning club in the men's category was CC Monte Abaixo.
ELITE FEMALE:
1st BRAVO SOBA, ROSA CD CYCLIST PISUERGA 2:05:58
2nd LEMAT CABRAL, Mª BELEN CITY OF LUGO FLUVIAL 2:21:13
3rd CONIGLIO YETMAN, FLAVIA JULIET TRI. ARCADE INFORHOUSE SAN
2:29:1
MALE ELITE
1º RODRIGUEZ IGLESIAS, GUSTAVO CITY OF LUGO FLUVIAL 1:34:34
2nd AMOEDO OUTEDA, JUAN JOSE CC MONTE ABAIXO ABM 3 1:34:56
3rd ARIAS VILLAJOS, MIGUEL ANGEL CITY OF LUGO FLUVIAL 1:37:53
Source: www.triatlon.org