Rubén Ruzafa sub-champion of the World of Triathlon Cros
The malagueño has been on the verge of getting his world title in the specialty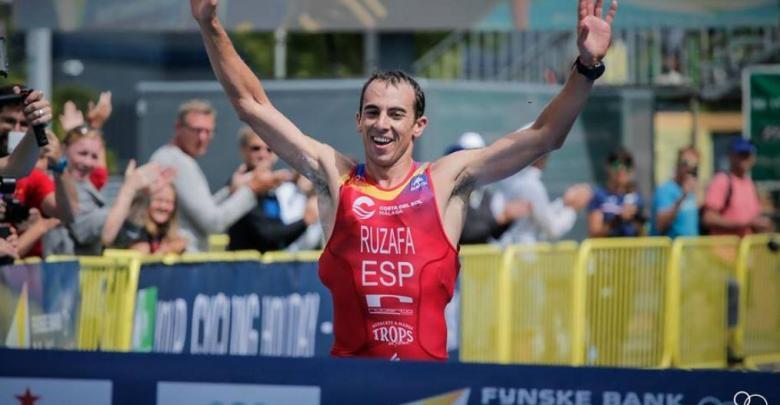 Today was held in Pontevedra, the Cros Triathlon World Championship, where the Malaga-born Rubén Ruzafa has achieved his fourth world runner-up. Rubén has won gold in this championship on 5 occasions in addition to the 3 titles achieved in the Xterra category, which makes him the holder of 8 world championships.
The test consisted of 1 km of swimming. 30 km of Mountain Bike to complete with 7 km of running race.
Rubén Ruzafa I commented in the press conference previous, who did not arrive in the best conditions for the test, due to a hand injury and has reached the goal with a lot of flatus, falling to the ground as soon as he reached the finish line.

The test that began at 15:30 the first to leave the water was the Spaniard Kevin Tarek with 48 seconds of advantage over Jens Roth and Alberto Castineira in third position. Camilo Puertas was sixth at 56 seconds. Rubén Ruzafa came out of the water a little behind schedule.
In the hard and technical cycling circuit, Rubén was gradually climbing positions to get first in the first kilometers.
In T2, a quartet made up of the French Arthur Foressier, the Czech Lukas Kocar, the Spanish Rubén Ruzafa and the American Josiah Middaugh, Kevin Tarek entered the chasing group with options to fight for fifth place.
The segment of race on foot promised to be very fast, since it was quite flat and with much stretch on asphalt.
After the 7 km race the victory was for Arthur Foressier with a time of 1: 48: 20 followed by Rubén Ruzafa (1:48:54) to 32 seconds and Lukas Kocar (1: 49: 05) in third position.
As for the rest of Spanish Kevin Tarek it has been eighth, Camilo Puertas 33º and Alberto Castineria 37 º
Rubén Ruzafa, commented on goal. " In the water very well, I have not lost much with my head. I have taken the bike calmly, but I have been in the lead. I tried to put time in the last descent but it could not be, and we started the race together.
I've started a bit stuck in the race. I have suffered like an animal to end it with flatus. "
In the female elite category, bad luck was born with Laura Gomez and separated her from the fight for medals. The Catalan suffered a fall from the bicycle when she was riding in the leading group of the race and, later, she played, a circumstance that did not allow her to compete in optimal conditions.
However, he did not throw the towel and, despite the bruises, crossed the finish line in a meritorious fourteenth position.
The Italian Eleonora Peroncini, that was about to fall at the same point as Gomez, took the world title ahead of the British Jacqueline Slack y Nicole Walters.
You can relive the race in the following video