Rubén Ruzafa wins the Subaru Duathlon Cross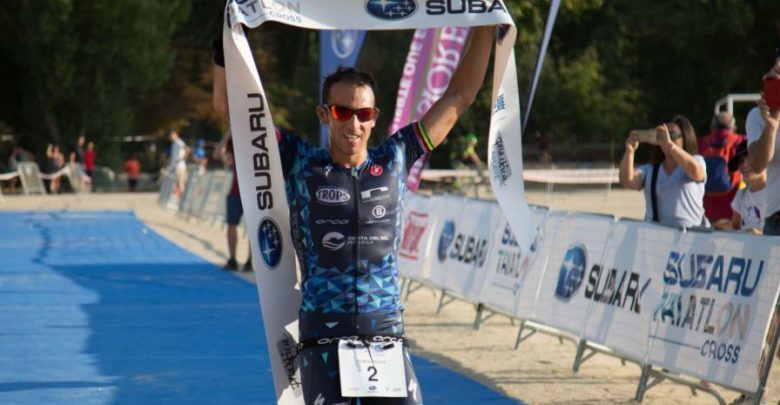 {wbamp-meta name = »image» url = »images / stories / news_08 / ruben-ruzafa-gana-subaru-duatlon-cros.JPG» width = »300" height = »150"}
Ruzafa fought to the end to get the podium, while Garcia dominated solo throughout the test
The extreme heat conditions have madel Subaru Duathlon Cross a demanding test that, even so, had more than 700 finishers
On Saturday, the fourth edition of the Subaru Duathlon Cross was held, the test of greatest participation of the national calendar with almost 1.000 people taking the start in the Country House of Madrid.
In the men's category, just start the test was formed a group of six duathletes among which were the champions Iván Raña and Rubén Ruzafa. The first of them was dropped in the mountain bike segment, while Ruzafa continued with the other group to the finish line.
In the next transition it was when the Valencian took a really strong pace that his four competitors could not stand, arriving Ruzafa the first very loose, with almost two minutes of difference on the second classified, Roberto Mohedano. Third came in Javier Notario, a well-known name of the national Mountain bike.
CLASSIFICATION
Male:
1º Rubén Ruzafa - 1: 12: 30
2º Roberto Mohedano - 1: 14: 22
3º Javier Notario - 1: 14: 42
In the women's category, nobody managed to beat the Spanish champion of XTerra, Eva García, who dominated the solo test during its three segments entering the finish line with a time of 1:26: 50. The second classified was Carolina Domínguez and third crossed the arch Star Haro.
CLASSIFICATION
Female:
1º Eva García - 1: 26: 50
2º Carolina Domínguez - 1: 39: 28
3º Estrella Haro - 1: 50: 34
The Subaru Duatlon Cross has consisted of two events, one Open (4.000 meters on foot, 10.000 on MTB and 2.000 on foot) which has had its start at 16.30 hours and a second PRO (8.000 meters on foot , 20.000 on MTB and 4.000 on foot) at 18 hours. As in other editions, it was a federated race and within the competition program of the Madrid Triathlon Federation. The extreme heat prevailing in Madrid during the day has turned the test into one of the most demanding of its four editions. Even so, more than 700 people have crossed the finish line, which shows the high competitive level of the test.
This year, for reasons of rehabilitation of the Casa de Campo lake, the event has been converted into a Duathlon Cross. Cleaning and filling it will leave the lake in perfect condition for future editions of the Subaru Triathlon Cross.