Saleta Castro wins the stage in the Duo-mixed category in the Titan Desert on his birthday
He has won it with Valentine San Juan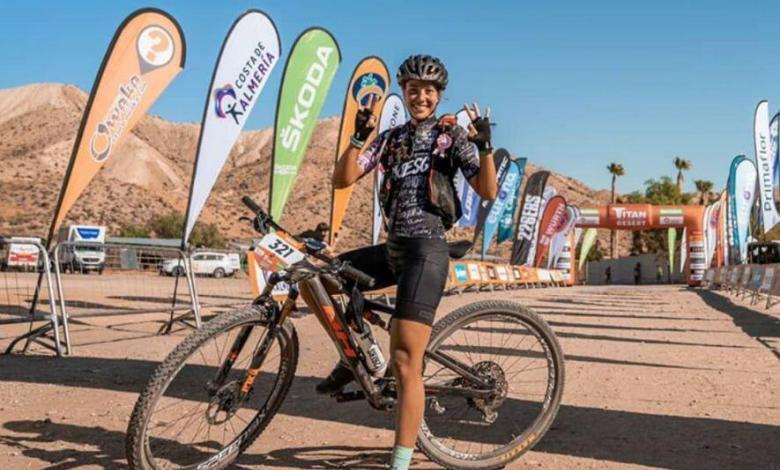 Today stage 2 of the Titan Desert 2020 that consisted of 65 kilometers with almost 1.768 meters of unevenness
There are several triathletes participating in the test, but today on her birthday, the Galician Saleta Castro He has taken the victory in the second stage with a time of 6:54:38 with his partner Valentine San Juan in the category Duo Mixed
In his social networks Saleta commented:
«Today a very special day in the @titandesertmtb, celebrating my birthday from 06.00 am, then Durilla stage 😊 to finish in the new camp that is spectacular
. And as soon as he arrived @paolazahonero was already in charge of shouting to everyone what day it was today🤣.
Stage 2 completed !!! And very happy, we suffered a lot in the 12km pass but we rode super well. Yesterday I ended up empty and with stiff legs but today I really enjoyed it.
And as a gift, @valentisanjuan and I have won the stage in a mixed duo😊.
Very happy to be able to spend my day in this way, even though I am away from my family and from @vicbesi I am where I want to be surrounded by new friends and living this great experience.
Thank you very much everyone !! »
Classifications

| POS. | No. | PARTICIPANTS | TEAM | WEATHER |
| --- | --- | --- | --- | --- |
| 1 | 321 | SALETA CASTRO | LESS HEAD | 06H 54 ′ 38 » |
| 2 | 325 | Lorraine Cobos | CYCLOHOBBY226ERS | 06H 58 ′ 58 » |
| 3 | 337 | MARIA PUJOL | ANDALUSIA EUROPEAN REGION OF SPORTS 2 | 07H 05 ′ 49 » |
| 4 | 333 | MINERVINE MARIA | POLLINO BIKE TOURS | 07H 46 ′ 13 » |
| 5 | 331 | LORENA JIMENEZ | MELILLA TOURISM / GRUPO ARMAS TRASMEDITERRANEA | 08H 32 ′ 39 » |
| 6 | 218 | MARTA GONZALEZ | - | 08H 36 ′ 19 » |
| 7 | 327 | MARIA MONTANER | HONMA GOLF 1 | 09H 01 ′ 44 » |
| 8 | 323 | NURIA LINERA | CAPITAL KRYPTEIA | 09H 25 ′ 44 » |

Classifications

En la primera etapa , Maria Pujol se llevó la victoria junto a su compañera Rocío Espada
Titan Desert 2020 Stages