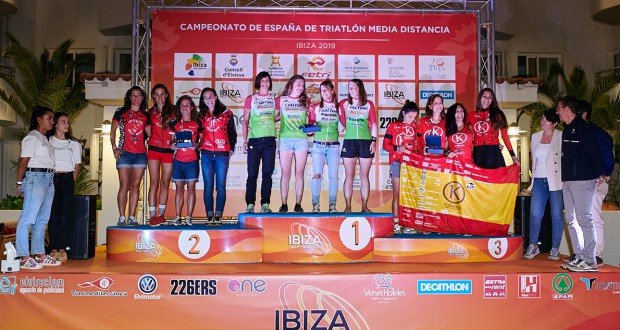 El Saltoki Diquesí Trikideak feminine and the ANB Triathlon Team Portugaletekoa men finished in the first position the classification by clubs the Triathlon Spanish Cup MD and LD tAfter the dispute of all the competitions planned, in Seville, Guadalajara, La Rioja, Mequinenza, Salamanca and Ibiza.
El Infinity Móstoles Triathlon Club and CDE Kálamos complete the women's podium for clubs. In the men's Saltoki also achieves the second position, ahead of the Tri Infinity Móstoles and Trienrenos.
The rankings, both club and individual, are available on the website of the Spanish Triathlon Federation here: https://bit.ly/2PvQMgs
Helene Alberdi and Ander Okamina Cup winners
Helene Alberdi, of Yepa! Triathlon Kluba, double champion of Spain of MD and LD, is the elite individual winner of the Cup, ahead of Sonia Pariente, of the Rias Baixas Triathlon, and Cristina Roselló, of the Tri Infinity Móstoles.
Walk Okamika, of the ANB Triathlon Team Portugaletekoa, champion of Spain MD, is imposed in the men's classification to Cristóbal Dios, of the Tri-Penta Terras de Lugo, and Pello Osoro, of the Delteco Eibar Triathlon Taldea.
In the different Age Groups they achieved victory in the Spanish Cup of Triathlon MD and LD 2019: José María del Caño in 20-24; José Ignacio Domínguez in 25-29; Diana Freire and David Luengo in 30-34; Marta Romero and Luis Miguel Prieto in 35-39; Cristian Lloret in 40-44; Eva Ribalta and Ángel Vidal, in 45-49; and Santiago Hernando in 55-59 years.
Price drop on Amazon
374,00 €
13 New From 365,00 €

Amazon.com
459,98 €
2 New From 459,98 €
6 Used From 409,65 €

Amazon.com
More discounts