Sam Long wins the IRONMAN Coeur d'Alene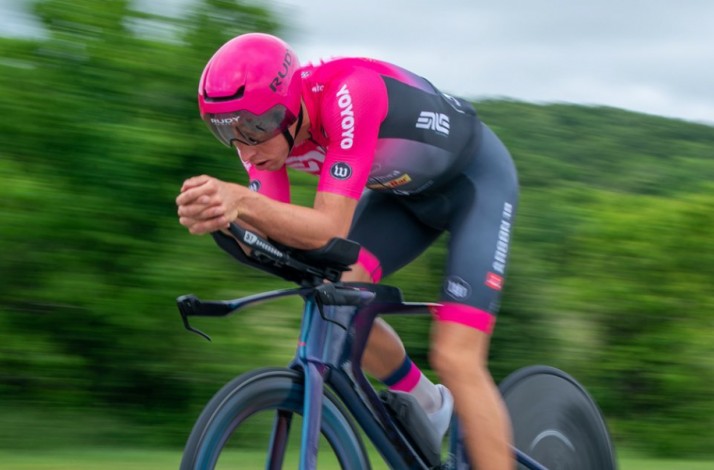 Today the IRONMAN Coeur d'Alene where triathletes of a great level have faced each other.
Among the most prominent professionals were Lionel Sanders y Sam long where, in addition to the fight for victory, the classification for the IRONMAN Hawaii.
The test began at 14:00 Spanish time with the 3.800 meters of swimming where the fastest was Balazs Csoke followed at 2:20 by a group with 5 triathletes where were Justin Metzler, Cody Beals, Pedro Gomes, Tim Rea and Lionel Sanders . Sam Long lost in this section 4:31 with respect to the race leader.
In the cycling segment, the chasing group was cutting distance with respect to Csoke to catch up with him on the 35 km of the race, and where Sam Long had overcome the lost time and joined this group.
The group stayed together until Sanders and Long went ahead at kilometer 75, riding together until the final part, where Long distanced himself from Sanders reaching T2 with a 1:31 lead. Long had to run a good portion of the course with a wheel fault.
In the foot race Sanders was cutting differences to catch up at kilometer 13 and run together from there.
They were together until kilometer 16 where Long left the Canadian and went for victory
Finally Sam long He continued to increase his lead to reach the finish line with a time of 8:07:40 followed by Justin metzler (8: 13: 03) and for Pedro Gomes (8: 17: 06) in third position
Lionel Sanders sank in the latter part of the race finishing in eleventh position and losing more than 1 hour to Sam Long
What happened to Lionel Sanders at the IRONMAN Coeur d'Alene?
RESPECT Lionel Sanders -
Finish 9:11:11 🙏🏻 Ironman Coeur D'Alene

🏊🏻‍♀️3.8km 🚴🏻‍♂️180km🏃🏼‍♂️42.2km
.#imcda #imkona #imtrinews #ironmantri #wearetriathlon #Triathlon #ironman #imcoeurdalene #coeurdalene pic.twitter.com/cPSSGAKSDy

- IM Tri News (ironmannews) (@IMTrinews) June 27, 2021
Men's 10 Top
| | | | |
| --- | --- | --- | --- |
| Post | Athlete | Time | Difference |
| 1 | Sam long | 08:07:40 | |
| 2 | Justin metzler | 08:13:03 | + 05: 22.83 |
| 3 | Pedro Gomes | 08:17:06 | + 09: 26.46 |
| 4 | Jason pohl | 08:20:57 | + 13: 16.83 |
| 5 | Matt Russell | 08:24:54 | + 17: 14.29 |
| 6 | Cody Beals | 08:29:59 | + 22: 18.81 |
| 7 | Karl-Johan Danielsson | 08:43:49 | + 36: 09.34 |
| 8 | Tim Rea | 08:51:40 | + 44: 00.43 |
| 9 | Balazs Csoke | 08:54:42 | + 47: 02.35 |
| 10 | Tripp hipple | 09:07:38 | + 59: 58.48 |
| 11 | Lionel Sanders | 09:11:11 | + 01: 03: 30.96 |
| 12 | Francis Martin | 09:12:09 | + 01: 04: 29.47 |
In the female category the victory has been for Carrie Lester with a time of 8: 54: 51 followed by Fenella Langridge (8: 59 :: 50)
Top 10 female
| | | | |
| --- | --- | --- | --- |
| Post | Athlete | Time | Difference |
| 1 | Carrie Lester | 08:54:51 | — |
| 2 | Fenella Langridge | 08:59:50 | + 04: 59.18 |
| 3 | Linsey Corbin | 09:13:21 | + 18: 30.11 |
| 4 | Haley Chura | 09:24:02 | + 29: 10.73 |
| 5 | Kelly fillnow | 09:37:14 | + 42: 22.70 |
| 6 | Rachel mcbride | 09:40:59 | + 46: 08.13 |
| 7 | Renee Killey | 09:42:28 | + 47: 36.93 |
| 8 | Lenny Ramsay | 09:55:47 | + 01: 00: 55.90 |
| 9 | Kathryn Morales | 09:58:36 | + 01: 03: 44.44 |
| 10 | Fiona moriarty | 09:59:01 | + 01: 04: 09.70 |