Samer Ali Guard retires from the high competition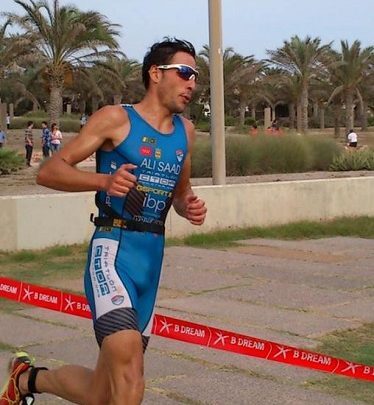 Samer Ali Guard has decided to leave the high competition after 15 years in the world of triathlon.
Samer Ali Guard, triathlete from Seville, has been one of the most important sportsmen of that community, has been linked to the triathlon more than 15 years, where he has achieved several national triumphs and competing with the national colors on several occasions.
He has made this decision due to his current employment situation as it is incompatible with the training requirements of being in high competition.
This is the statement he wrote on social networks:
"After more than 15 years in the world of triathlon, of which, most have been at the highest level, the time has come to lower the bar. It is a decision I had made since the summer and where, thanks to my sponsors, I found the motivation to finish the year at the highest level. The good results this season have made the decision more difficult. But the requirement to which you submit the high level, combined with a working day from Monday to Saturday have made a very hard year. A year where the day to day passed very fast and overwhelmed training - working without a free minute. One year doing Elite training at odd hours, a year in which I no longer enjoyed what I love most: train TRIATHLON.

The Triathlon gave me everything, formed me as a person, met wonderful people, made me competitive and ambitious. Thanks to the Triathlon I traveled half the world. I cried with joy, but also with sadness. High level sport gives you a difficult experience to explain.
I stay with everything I lived and knew during all these years. Of those international trips always accompanied by a large suitcase where I traveled with my bike and much enthusiasm. From the selection team, as well as from the clubs where I played: CT Camaleón, ADS, Triat-Alandalus from Mijas, Fluvial from Lugo, Bricoblock Tritoledo, Aquaslava and CTOA. Of all the times I could raise my arms, and climb to the top of the podium, experiencing that wonderful and addictive feeling that you can rarely find in everyday life. And of course, of all the affection that people have always offered me.
During all these years, I always thought what there would be after a life linked to sports. And today I can feel privileged. As I said before I am passionate about this sport. And today I have the opportunity to lead a new project. A project in the form of a Club. A club where I can share all these experiences, all the secrets of this sport, and above all, lead a human group to spend great moments doing what we like most: swimming, riding a bike and running. "
My maximum premise will be to enjoy with this team. I will continue training hard (because the body still asks me to do so), but always as my workday and family commitments allow. From now on I will be accompanied by my Triathlon Club Isbilya. And if this is the 10º, the 20º or the 1º will give me the same because I surely have already won. I will have won the day to day enjoyment with my friends and my family ...
Time will give me the answer. But what I have no doubt is that the Triathlon is full of wonderful people, and I'm looking forward to meeting them!
I would not like to say goodbye without remembering all those people who made my path possible. Those people or institutions that helped me keep my dream. These are not others that: my family, my partner, my discoverer Luis Salgueiro, my coaches: Fernando Herrera, Alberto García Bataller and Antonio Reina. At the Mairena Swimming Club. Al SADUS (Sports activities service of Univ. Sevilla), Andalusian Olympic Foundation (FAO) with Rafa Gil in the lead. Carlos from the Deportemania store, Eduardo Massa with Globalbike., Paco worked with Training-Market, Oscar with Vitalnutritech, Trisur events and the Biomechanics Institute. Surely I forget many people, and in all these years I have been lucky to meet good people. THANKS to all of them!
Without further ado, I thank you in advance for all the expressions of affection that you write in this post! I hope to see you soon training and how not: DIVIRTING US! in www.triatlonisbilya.com