Sara Pérez wins the Club La Santa Volcano Triathlon 2022
Gregory Barnaby and Sara Pérez take the win at Club La Santa Volcano Triathlon 2022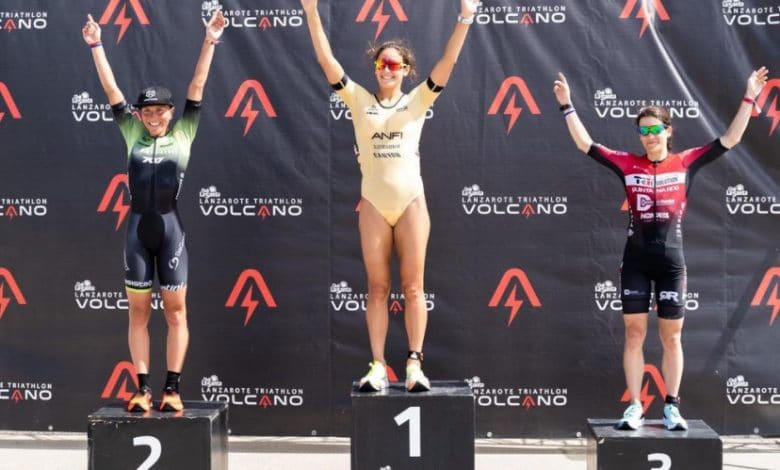 Gregory barnaby y Sara Perez have been proclaimed winners of the La Santa Volcano Triathlon Club which has been disputed today.
The Italian and the Spanish are the big winners this year in the longest running triathlon in Spain, with times of 01:51:41 and 02:03:38, respectively.
The test, of Olympic distances and scoring in the national ranking of the FETRI, has brought together 570 professional and amateur athletes.
The competition began at 10 in the morning (island time) in the saltwater lagoon of Club La Santa, on a day that started with the sky covered with clouds.
In this first section, the Italians Miguel Espuna and Gregory Barnaby came out of the water in first and second position. The Spanish Sara Pérez and the British Kate Curran did the same in the women's category.
Already on the bike, with 40 kilometers of hard pedaling ahead of him, in a two-lap route through some of the most emblematic landscapes of the island, Gregory Barnaby took first place and held his own after being chased by Kristoffer Visti Graae and Per van Vlerken.
Barnaby finished as the leader in this segment with Visti Graae 34 seconds behind. For her part, in the women's category, Sara Pérez remained at the head of the race, leading the category at a very high pace and finishing strong in the stage.
To complete this Club La Santa Volcano Triathlon and reach the end of the competition, the runners faced a 10-kilometer run that would end at the Club La Santa stadium.
Gregory barnaby would not let the condition of leader escape and finished in first position, followed by the Belgian Dieter Comhair and from german Per van Vlerken.
On the female side, Sara Perez was proclaimed the winner closely followed by the Italians Giorgia Priarone y Martha Bernardi.
The celebration of this test keeps Lanzarote and the Canary Islands in a position of reference in the national and international sports scene.
The La Santa Volcano Triathlon Club has been a prominent event on the calendar since its first edition, in 1984, and this year it has started the FECANTRI Canary Triathlon Series.
The experience of the organization, the dedication of the volunteers, the spectacle of the triathletes and the environment of Lanzarote have made this edition a new success that, in addition, has been carried out safely thanks to a strict sanitary protocol.
After the end of the mythical Volcano Triathlon test, in less than a month the Club La Santa IRONMAN 70.3 Lanzarote will take place on March 19, and two months later the Club La Santa IRONMAN Lanzarote, two tests of great national and international prestige.
RESULTS:
Male category:
Gregory Barnaby (ITA) – 01:51:41
Dieter Comhair (BEL) – +03:56
Per van Vlerken (GER) – +04:32
Female category:
Sara Perez (ESP) – 02:03:38
Giorgia Priarone (ITA) – +02:09
Marta Bernardi (ITA) – +02:54