Sergio Baxter wins the Pontevedra World Cup
Antonio Serrat has been second. In total 6 Spaniards in the Top10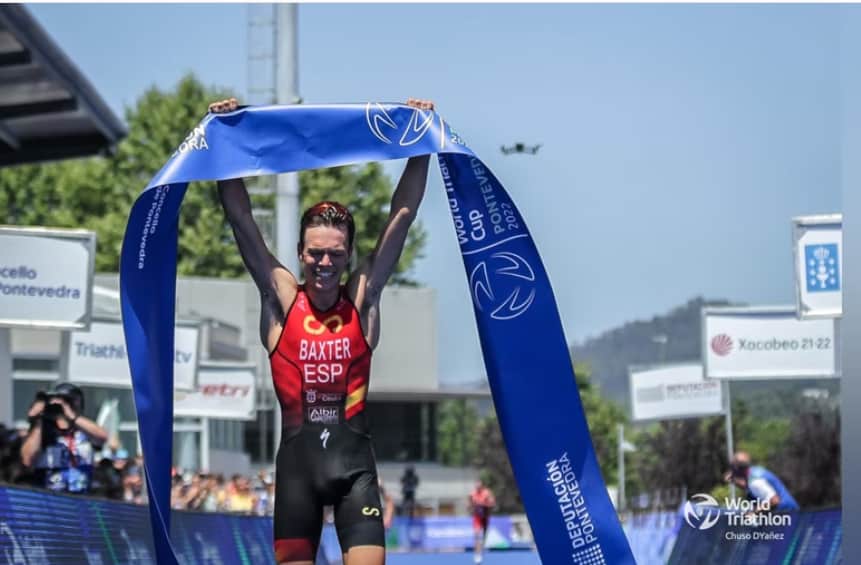 Today, in the city of Pontevedra, the Triathlon World Cup with a great Spanish performance with 6 Spaniards in the Top 10.
The victory was for Sergio Baxter with a time of 1: 47: 03 followed by Antonio Serrat (1: 47: 12) and for Max Studer third.
Genis Grau it was fifth, Jordi García eighth and Antonio Benito 10st.
In the women's event the victory went to the Czech Petra Kurikova with a time of 1: 57: 43 followed by Lisa Tertsch (1: 57: 55) and for Sandra Dodett (1:58:08) in third position.
As for the Spanish, the best was Noelia Juan who was sixth
Men's 10 Top
| | | | | |
| --- | --- | --- | --- | --- |
| Position | Athlete First Name | Athlete Last Name | Country | Total Time |
| 1 | Sergio | Baxter cabrera | ESP | 01:47:03 |
| 2 | Antonio | Serrat Seoane | ESP | 01:47:12 |
| 3 | Max | studer | SUI | 01:47:17 |
| 4 | Barclay | Izzard | GBR | 01:47:41 |
| 5 | Genis | Grey | ESP | 01:47:56 |
| 7 | Joao | Pereira | BY | 01:47:57 |
| 6 | John | Bird | GER | 01:47:57 |
| 8 | Jordi | García Gracia | ESP | 01:47:59 |
| 9 | Jonas | Schomburg | GER | 01:48:01 |
| 10 | Antonio | Benito Lopez | ESP | 01:48:03 |
Top 10 female
| | | | | |
| --- | --- | --- | --- | --- |
| Position | Athlete First Name | Athlete Last Name | Country | Total Time |
| 1 | Petra | Kurikova | CZE | 01:57:43 |
| 2 | Lisa | Tertsch | GER | 01:57:55 |
| 3 | Sandra | Dodet | FRA | 01:58:08 |
| 4 | Eva | Daniels | LUX | 01:58:11 |
| 5 | Kate | waugh | GBR | 01:58:18 |
| 6 | Noelia | Juan | ESP | 01:58:25 |
| 7 | Jolien | Vermeylen | BEL | 01:58:28 |
| 8 | Lea | Coninx | FRA | 01:58:34 |
| 9 | Mathilde | Gautier | FRA | 01:58:47 |
| 10 | Lena | Meißner | GER | 01:58:51 |
Spanish classification
| | | | | |
| --- | --- | --- | --- | --- |
| Position | Athlete First Name | Athlete Last Name | Country | Total Time |
| 1 | Sergio | Baxter cabrera | ESP | 01:47:03 |
| 2 | Antonio | Serrat Seoane | ESP | 01:47:12 |
| 5 | Genis | Grey | ESP | 01:47:56 |
| 6 | Noelia | Juan | ESP | 01:58:25 |
| 8 | Jordi | García Gracia | ESP | 01:47:59 |
| 10 | Antonio | Benito Lopez | ESP | 01:48:03 |
| 19 | Natalia | castro santos | ESP | 01:59:33 |
| 20 | Sara | Manso Warrior | ESP | 01:59:41 |
| 21 | Marta | Pintanel Raymundo | ESP | 01:59:42 |
| 25 | Cecilia | Santamaria Surroca | ESP | 02:00:24 |
| 26 | Anna | Godoy Contreras | ESP | 02:00:24 |
| 32 | Sofia | Aguayo Mauri | ESP | 02:01:09 |
| 43 | More | Noain Lacamara | ESP | 01:53:08 |
| | Miriam | Casillas García | ESP | 00:00:00 |