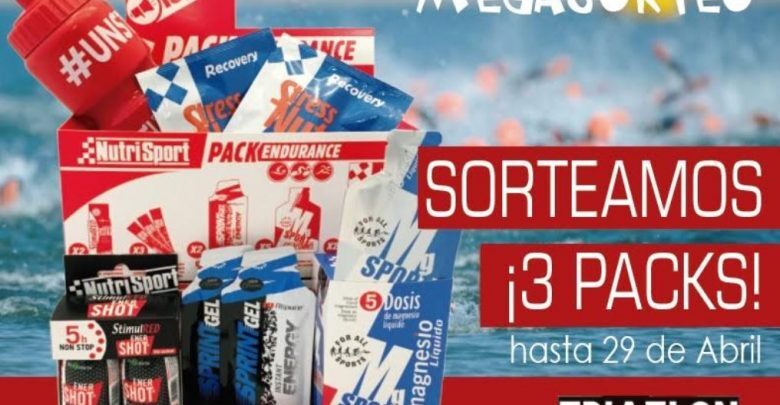 {wbamp-meta name=»image» url=»images/stories/noticias_08/sorteo-nutrisport-facebook-tw.JPG» width=»300″ height=»150″}
We raffle among all our followers 3 Packs Endurance brand Nutrisport
Participate in the contest (Click?)

⚡️?#DRAW ? ⚡️
Win one of these 3 Endurance Packs of @NutriSport_SA
Requirements:

Give RT the tweet
▶ ️FW a @NutriSport_SA y @triatlonnoticia
▶ ️Tell us what type of product you use the most
▶ ️ Mention two friends.

+ info?https://t.co/w2S7GuUFDO pic.twitter.com/AjwdKV1VAh

- Triathlon News (@triatlonnoticia) April 22 2018
El ENDURANCE PACK de Nutrisport Includes sticks SPORT DRINK ZERO CALORIES based on mineral salts (Sodium, Magnesium and Potassium) to ensure a replacement of the lost electrolytes through sweat.
Make sure of a correct supply of Magnesium with MGSPORT for efficient muscle contraction so you don't slow down!
Provides energy in the form of fast absorbing carbohydrates. Avoid overloading the stomach and improve the intestinal sensation with SPRINT GEL.
When you approach "Wall"… Don't lower performance! Delays perception of fatigue at the central level with ENERSHOT (shot that provides 80 mg of caffeine) and focus on your goal.
Last but not least, it optimizes the filling of muscle energy reserves and stimulates the repair processes of muscle tissue with STRESSNUTRIL. In addition, it provides the necessary nutrients to promote an optimal state of the body's defenses.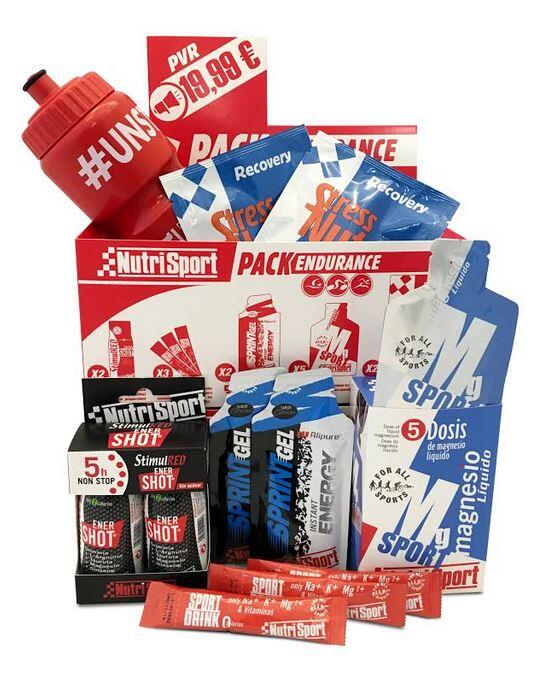 What will you find in the ENDURANCE PACK?
5 x MGSPORT
3 x SPORT DRINK Sticks 0 CALORIES.
2 x SPRINT GEL
2 x ENERSHOT
2 x STRESSNUTRIL
1 BIDON
El ganador se dará a conocer el lunes 30, entre todos los participantes residentes en España ( Solo península ) que cumplan los requisitos de concurso en la red Twitter