Steffen Justus and Erin Densham winners of the first of the Triathlon World Series events in Sydney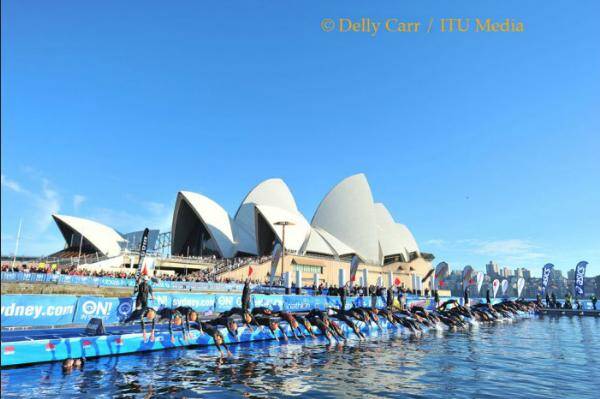 Excellent performance of the Spanish Ainhoa ​​Murúa achieving the 6ª put in the test. Victory for the Australian Erin Densham, second place for the current world champion Helen Jenkins and 3ª Andrea Hewitt. Zuriñe Rodríguez had to abandon the test in the swimming segment, after being sick the previous days and losing time in this segment.
The event featured the absence of one of the great favorites who was the champion of this test in 2010, the Chilean Barbara Riberos, since she had to withdraw from the test due to having a stomach virus the days before it.
With these results, the third Spanish place in the female category is complicated, even so, Marina Damlaimcourt and Zuriñe Rodríguez will continue fighting to achieve this Olympic place. The Madrid World Series next May will be the last appointment of this desired "ticket to London 2012"
In the men's category, the absence of the big favorites, the Brownlee brothers and the Spaniard Javier Gómez Noya, who last year achieved victory in an impressive foot race in which all the spectators vibrated.
Jose Miguel Pérez achieves an excellent 16th position, which is adding points to achieve this Olympic place that is debated among several Spaniards, opening a range of possibilities. Iván Raña had to retire in the running segment.
The men's podium was completed by the German Steffen Justus, 2 for Richard Murray and 3 for Laurent Vidal.
The next appointment, San Diego next May 10.
| | | | | | | | | | | |
| --- | --- | --- | --- | --- | --- | --- | --- | --- | --- | --- |
| 1 | Steffen | Justus | GER | | 01:51:04 | 00:18:04 | 00:01:20 | 01:00:27 | 00:00:21 | 00:30:50 |
| 2 | Richard | Murray | RSA | | 01:51:13 | 00:18:23 | 00:01:15 | 01:00:15 | 00:00:21 | 00:30:53 |
| 3 | Laurent | Vidal | FRA | | 01:51:15 | 00:17:57 | 00:01:21 | 01:00:34 | 00:00:21 | 00:30:58 |
| 4 | David | Hauss | FRA | | 01:51:30 | 00:17:51 | 00:01:18 | 01:00:44 | 00:00:25 | 00:31:08 |
| 5 | Alexander | Bryukhankov | RUS | | 01:51:31 | 00:17:50 | 00:01:16 | 01:00:46 | 00:00:21 | 00:31:16 |
| 6 | Ivan | Vasiliev | RUS | | 01:51:34 | 00:17:46 | 00:01:20 | 00:59:36 | 00:00:26 | 00:32:24 |
| 7 | Kris | Gemmell | NZL | | 01:51:42 | 00:17:58 | 00:01:20 | 01:00:33 | 00:00:21 | 00:31:26 |
| 8 | William | Clarke | GBR | | 01:51:43 | 00:18:03 | 00:01:19 | 01:00:34 | 00:00:21 | 00:31:21 |
| 9 | Dmitry | Polyansky | RUS | | 01:51:49 | 00:17:44 | 00:01:17 | 01:00:53 | 00:00:21 | 00:31:29 |
| 10 | Jarrod | Shoemaker | USA | | 01:51:51 | 00:18:13 | 00:01:21 | 01:00:26 | 00:00:25 | 00:31:22 |
| | | | | | | | | | | |
| --- | --- | --- | --- | --- | --- | --- | --- | --- | --- | --- |
| 1 | Erin | Densham | AUS | | 02:01:29 | 00:19:43 | 00:01:29 | 01:05:24 | 00:00:21 | 00:34:28 |
| 2 | Helen | Jenkins | GBR | | 02:01:38 | 00:19:35 | 00:01:33 | 01:05:33 | 00:00:22 | 00:34:32 |
| 3 | Andrea | Hewitt | NZL | | 02:01:45 | 00:19:40 | 00:01:35 | 01:05:24 | 00:00:25 | 00:34:38 |
| 4 | Gwen | Jorgensen | USA | | 02:02:12 | 00:19:59 | 00:01:41 | 01:05:06 | 00:00:27 | 00:34:56 |
| 5 | Nicola | Spirig | SUI | | 02:02:19 | 00:20:28 | 00:01:34 | 01:04:35 | 00:00:22 | 00:35:16 |
| 6 | Ainhoa | Murua | ESP | | 02:02:26 | 00:19:42 | 00:01:40 | 01:05:15 | 00:00:25 | 00:35:21 |
| 7 | Anne | Haug | GER | | 02:02:32 | 00:20:32 | 00:01:36 | 01:04:31 | 00:00:24 | 00:35:26 |
| 8 | Kathy | Tremblay | CAN | | 02:02:34 | 00:19:43 | 00:01:31 | 01:05:25 | 00:00:24 | 00:35:27 |
| 9 | Mariko | Adachi | JPN | | 02:02:39 | 00:19:07 | 00:01:42 | 01:05:55 | 00:00:22 | 00:35:30 |
| 10 | Ashleigh | Gentle | AUS | | 02:02:40 | 00:20:31 | 00:01:31 | 01:04:40 | 00:00:24 | 00:35:30 |