Swim Challenge Cascais joins the demanding ultramarathon circuit with a 20 km journey
The test unites Lisbon and Cascais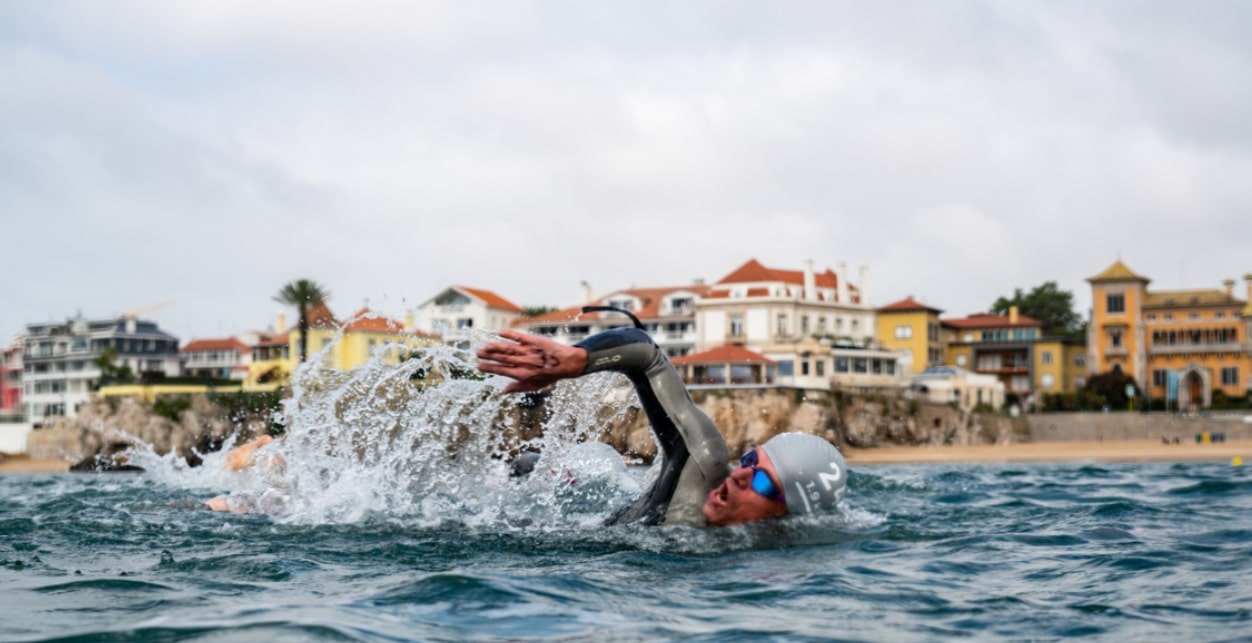 The third edition of 11 LIDL Swim Challenge expands its program and internationalizes by incorporating the test of Lisbon-Cascais swimming ultramarathon.
This 20 km journey, which will take place on 23th September 2023, is part of the prestigious WOWSA world circuit Ultra Marathon Swim Series organized by the World Open Water Swimming Association (WOWSA).
Starting at Doca de Belém, next to the Monument to the Discoveries, the participants will cross the municipalities of Lisbon, Oeiras and Cascais until they reach the finish line at Praia dos Pescadores.
The test becomes the most extensive ever carried out in mainland Portugal.
Tests for all levels
On the same day, there will also be a 10 km water marathon, which will start from Praia da Torre in Oeiras and end at Praia dos Pescadores in Cascais.
Both tests are part of the LIDL Swim Challenge weekend, which aspires to become a great international event.
On Sunday, September 24, the LIDL Swim Challenge program will continue with challenges for professionals and amateurs, including 3.8 km, 1.9 km, 1 km events as well as the new distance of 5 km, covering all official Olympic open water distances.
The tests will begin and end at Praia dos Pescadores, in Cascais, in a closed circuit format that will transform the bay into a natural stadium full of the public. In addition, there will be distances for children of 200 m and 400 m.
Distances in Swim Challenge
| Distance | Description | Date |
| --- | --- | --- |
| 20 km | Lisbon-Cascais ultramarathon race | 23th September 2023 |
| 10 km | Oeiras-Cascais water marathon | 23th September 2023 |
| 5 km | Open water test (Olympic distance) | 24th September 2023 |
| 3.8 km | open water test | 24th September 2023 |
| 1.9 km | open water test | 24th September 2023 |
| 1 km | open water test | 24th September 2023 |
| 400m | test for children | 24th September 2023 |
| 200m | test for children | 24th September 2023 |
Jorge Paulo Pereira, from 3Iron Sports, organizer of the event, expressed his pride at the international recognition and the opportunity to create a challenging event in Portugal, as well as his desire to rehabilitate great feats of the past and inspire new swimmers.
Ideal for triathletes
If you are looking for a test to test yourself or to check if you are ready to compete in medium or long distance, this is ideal.
Cascais is located a few hours drive from Spain and is also held on the same circuits as IRONMAN Portugal.
In addition, since the event has tests of different distances, it is a perfect opportunity to do that quality training before the big event.
Registration open on March 28
Registrations will open on March 28 and will be done exclusively online through the website www.swim-challenge.com.
For more information, visit www.swim-challenge.com.