Thomas Hellriegel absolute winner of the III Ocean Lava Lanzarote Triathlon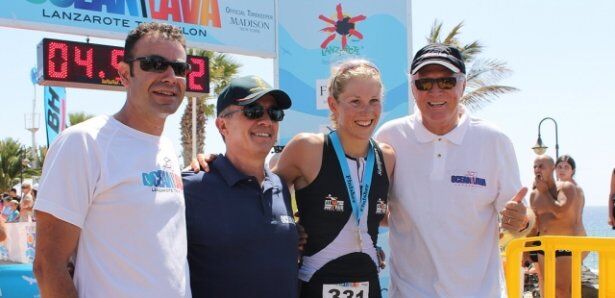 The German Thomas Hellriegel fulfilled all the forecasts and won the third edition of the Ocean Lava Lanzarote Triathlon. The triathlon event was held this Saturday morning on the island of Lanzarote, with the tourist town of Puerto del Carmen as its epicenter. Thomas made up for the second place achieved in the 2011 edition and claimed victory in a third edition that had nearly 250 participants.
At 08:00 a.m. the Ocean Lava Lanzarote Triathlon started on Playa Grande in Puerto del Carmen. It began with the dispute of the Medium Distance modality, made up of 1,9 kilometers of swimming, 90 kilometers of bicycle segment and 21,1 kilometers of running. The mayor of Tías, Francisco Hernández, accompanied by several of the councilors of the corporation accompanied the triathletes at the start.
The German Thomas Hellriegel carried out a race from less to more, being in the bicycle segment in which he began to reduce the gap with respect to Pavel Castro, leader for many kilometers, and opening a gap that was more than enough for him to cross the finish line. On the hard Femés ramps, Thomas set a devilish pace that none of his competitors could follow.
The winner of this third edition of the Ocean Lava Lanzarote Triathlon marked a time of 4 hours, 22 minutes and 53 seconds. David Rodríguez from the Canary Islands was the second classified, improving the third place of last year's edition, with a time of 4:32:12. Gregorio Cáceres from Lanzarote from CD Triatlón Triyaiza reappeared in the competitions and took third place. Goyo had a time of 4:33:19.
The female category of the test was more closely fought, in which the Danish Maya Stage and the German Eva Böhrer held a heads-up for a good part of the route. There were several changes in the lead of the race, although the distance between the two triathletes was a few seconds. Eva Böhrer took the lead in the Timanfaya area. It was in the foot race that Maya Stage took the lead and crossed the finish line first.
The time used by the winner of the test was 4 hours, 44 minutes and 32 seconds. The German Eva Böhrer had to settle for second place overall (4:52:39). And the podium was completed with the third place of Mareen Hufe (05:01:47).
Source: .lavozdelanzarote.com