All the Spanish FETRI championships for 2023.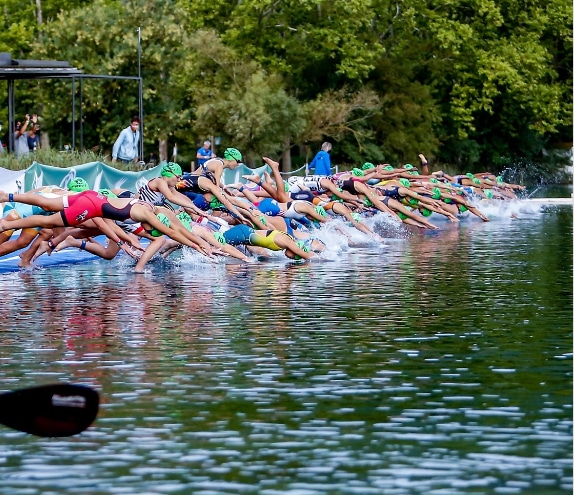 The 2023 season is about to begin and for this year FETRI will organize 34 Spanish Championships among all modalities.
Winter Triathlon, Duathlon, Triathlon, Aquabike, Relay, Swim Run are some of its modalities.
The first championship will be the Winter Triathlon that will be held in Ansó on February 2.
This is the list of all the FETRI championships for 2023
| Name | Site | Date | Distances | Modalities |
| --- | --- | --- | --- | --- |
| Spanish Winter Triathlon Championship | anso | 2/12/2023 | - Winter | - Winter Triathlon |
| Spain Middle Distance Duathlon Championship | daughter | 2/19/2023 | - Middle distance | - Duathlon |
| Spanish Championship of Duathlon SuperSprint by Clubs | La Nucia | 3/4/2023 | -SuperSprint | - Duathlon |
| Spanish Championship of Duathlon SuperSprint by Relay / Pairs | La Nucia | 3/4/2023 | - Relay | - Duathlon |
| Spanish Duathlon SuperSprint Championship for Clubs 2x2 | La Nucia | 3/5/2023 | -SuperSprint | - Duathlon |
| Spanish Duathlon Championship by Clubs | Albacete | 3/11/2023 | - Sprints | - Duathlon |
| Spanish Duathlon Championship by Mixed Relay | Albacete | 3/12/2023 | - Relay | - Duathlon |
| Spanish Duathlon Championship | Soria | 3/25/2023 | -Sprint -SuperSprint | - Duathlon |
| Spanish Duathlon Championship - SUPER SPRINT (Cadet, Youth, Junior) AND SPRINT (Junior) | Alcobendas | 4/1/2023 | -Sprint -SuperSprint | - Duathlon |
| Spanish Duathlon Championship for Mixed Talent Relay | Alcobendas | 4/2/2023 | - Relay | - Duathlon |
| Spanish Duathlon Team Time Trial Championship | Aviles | 4/15/2023 | - Sprints | - Duathlon |
| Spanish Time Trial Duathlon Championship by Talent Teams | Aviles | 4/15/2023 | -SuperSprint | - Duathlon |
| Spanish Duathlon Championship for Talent Relay | Aviles | 4/16/2023 | - Relay | - Duathlon |
| Spanish Duathlon Championship by Relays | Aviles | 4/16/2023 | -SuperSprint | - Duathlon |
| Spanish SuperSprint Triathlon Championship by Clubs | Merida | 5/20/2023 | -SuperSprint | - Triathlon |
| Spanish Super Sprint Triathlon Championship for Relays / Couples | Merida | 5/20/2023 | -SuperSprint | - Triathlon |
| Spanish SuperSprint Triathlon Championship for Clubs 2x2 | Merida | 5/21/2023 | -SuperSprint | - Triathlon |
| Spanish Triathlon Championship (Standard) | Coruña | 6/10/2023 | - Olympic | - Triathlon |
| Spain Middle Distance Triathlon Championship | Salamanca | 6/17/2023 | - Middle distance | - Medium Distance Triathlon |
| Spanish Aquabike MD Championship | Salamanca | 6/17/2023 | - Middle distance | -Aquabike |
| Spanish Time Trial Triathlon Championship by Talent Teams | Roquetas de Mar | 6/24/2023 | -SuperSprint | - Triathlon |
| Triathlon King's Cup and Triathlon Queen Iberdrola Cup | Roquetas de Mar | 6/24/2023 | - Sprints | - Triathlon |
| Spanish Triathlon Relay Championship | Roquetas de Mar | 6/25/2023 | -SuperSprint | - Triathlon |
| Spanish Triathlon Championship for Talent Relay | Roquetas de Mar | 6/25/2023 | - Relay | - Triathlon |
| Spanish Triathlon Championship by Autonomies | Valladolid | 7/8/2023 | -SuperSprint | - Triathlon |
| Spanish Triathlon Championship for Autonomies in School Age CSD | Valladolid | 7/9/2023 | -SuperSprint | - Triathlon |
| Spanish Championship of Triathlon Cros | Almazan | 7/15/2023 | - Sprints | - Cross Triathlon |
| Spanish Aquatlon Championship | Almazan | 7/15/2023 | - Sprints | - Aquathlon |
| Spanish Championship of Duatlon Cros | Almazan | 7/16/2023 | - Sprints | - Duathlon |
| Spanish Triathlon Championship by Clubs | Banyoles | 7/22/2023 | - Sprints | - Triathlon |
| Spanish Triathlon Championship by Mixed Relay | Banyoles | 7/23/2023 | - Relay | - Triathlon |
| Spanish Triathlon Championship for Mixed Talent Relay | Banyoles | 7/23/2023 | - Relay | - Triathlon |
| Spanish Triathlon Championship (Sprint) | Aguilas | 9/16/2023 | - Sprints | - Triathlon |
| Spanish Championship of "Swim-Run" (Aquatlon Cros) | El Berrueco | 10/1/2023 | - Other | - Duathlon Cross |