Three golds for Spain in the Beach Games, with victories of Kevin Tarek and Xisca Tous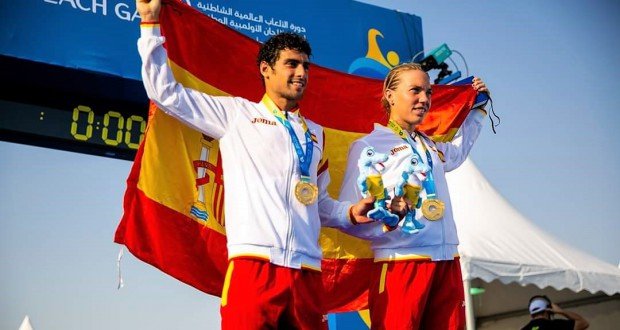 Great results for the Spanish triathlon in the World beach games that are being celebrated in Doha (Qatar), being the Spanish Triathlon Federation the only Spanish delegation of displaced persons that has achieved three golds of three possible.
The competitions were of the maximum hardness due to the ambient heat and humidity, as well as a water at 32 ° C that reduced the swimming to 750m, instead of the initial 1000.
Kevin Tarek Viñuela He based his victory on his always powerful swimming sector where, after enduring in the lead group in the first foot race, he made the cut that selected the contenders for the medals and making a great last sector on foot winning great rivals as Mark Devay or Rostislav Petsov.
Xisca Tous He almost traced the previous race, being very solvent in the three sectors, in the leading group from the first meters of the race, making a swimming cut and being superior to his rivals in the final 2'5km on foot.
The third gold medal came from the hand of a format of Mixed relay novel in which girl-boy-girl-boy were interspersed as in the usual relays, but in this case it was the same athletes who repeated again.
Xisca Tous managed to dominate the first post by delivering it to the head for just a few meters before the selections of Arzebayan, Hungary and Colombia.
Petsov had a slight advantage over his rivals in the first on foot, which Kevin managed to annul in swimming, but the great Azerbaijani runner returned to lead the second 1'25.
Levkoska managed to maintain the advantage against Xisca and the other rivals, while Xisca managed to distance Hungary to be able to secure the silver.
In the last relay, Petsov increases the difference against Kevin until the 35 seconds before jumping into the water, but Kevin is able to neutralize this advantage by swimming out of the second transition together.
A brilliant final race gave Kevin the advantage enough to crown the Spanish national team, Kevin Tarek Viñuela and Xisca Tous, and proclaim World Beach Games Champions both in the individual and in the mixed race.