Multisport World Cup Ibiza 2023: La Fetri presents the Triarmada with five world champions and two champions of Europe and Spain
Spain will have five world champions, two European champions and two from Spain.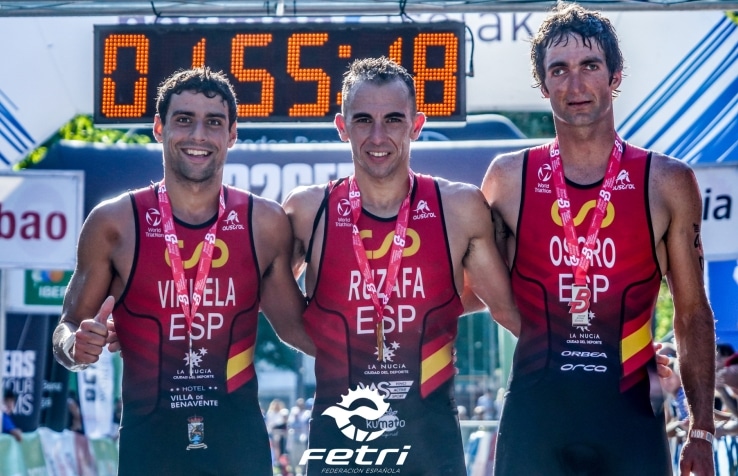 The Spanish Triathlon Federation (Fetri) has announced the 23 triathletes that will represent Spain in the Ibiza Multisport World Cup, which will take place from April 29 to May 7.
Among those selected are 5 world champions, 2 European championssy 2 Spanish champions.
The list of participants in Duathlon has not yet been announced and it is expected to be confirmed in future events.
A world champion and a world runner-up will lead the Spanish aquathlon team
Kevin Tarek
Christian Fernandez
ander noain
Paula Herrero
Natalia Hidalgo placeholder image
Sara Perez
The Aquathlon World Cup will be held on May 1 in the town of Santa Eulalia.
Two Spanish champions at the helm of the cross duathlon
Sergio Correa
Rubén Velázquez
Eva García
The Duathlon Cros World Cup will be held on May 3 in the town of San Antonio.
Three options in cross triathlon
Rubén Ruzafa
Kevin Tarek
Martha Bourbon
The Cros Triathlon World Cup will take place on May 5 in San Antonio
An eleven to dream big in the long distance
Víctor Arroyo
Antonio Benito
Albert Moreno
Pello Osoro
Mikel Ugarte
judith corochan
Helene Alberdi
The Long Distance Triathlon World Championship will be held on May 7 in the capital of the island.
"We have a very complete list, the one that Spain deserves"
The Spanish triathlon coach Iñaki Arenal assessed the list for the Ibiza 2023 Multisport World Cup as follows:
"ItIt's a very complete list. For example, we have a very powerful Long Distance team with very important people, we have made a great bet on the LD and I think we will be in the forward positions.
In Aquathlon we also have a very strong team, with people who have been champions in recent events.
It will also be a qualifying event for the Beach Games, so there will certainly be a high level, but we are convinced that we will be able to achieve good results..
In addition, Arenal commented: "In the Cros Triathlon, three triathletes of those who were in the successes in the European Championship in Bilbao, Rubén Ruzafa, Kevin Tarek and Marta Borbón, repeat, and we hope that they can be on the podium again in Ibiza.
And in the Cross Duathlon it may cost us a little more, but I am convinced that both Sergio Correa, Rubén Velázquez and Eva García are going to do everything they can, they have often been on the verge of medaling in these events and hopefully they will. could get here". "