Everything prepared for the debut of the triarmada in the Mixed Relay Triathlon at the Olympic Games
Spain will have a luxury relay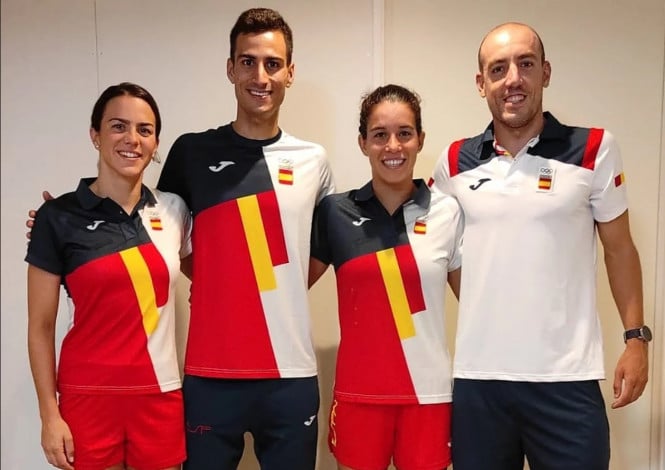 This next Saturday the first competition of the Triathlon by Mixed Relay in an olympic games.
Check the competition schedules
In a fast and fast-paced test, where each member of the team will have to do a Super Sprint triathlon, the show will be guaranteed
17 equipment
There will be 17 teams made up of 2 men and 2 women who will have to complete a circuit consisting of 300 m of swimming, 6,8 km of cycling and 2 km of running.
The big favorite is France, world champion for the last three consecutive years, although the teams of Australia, USA y UK They will try to make it difficult for you.
- South Africa had to withdraw from the test after Henri Schoeman suffered a stress fracture to his foot this past Monday.
Check the race circuits
Luxury relay of the Spanish team
Spain will be represented in this event by Anna Godoy, Fernando Alarza, Miriam Casillas y Mario Mola and will start at position 13 of the starting pontoon.
Confirmed the team of the #Triarmed for the Mixed Relay of the Olympic Games. from Tokyo. Along with Miriam Casillas and Anna Godoy will compete Mario Mola and Fernando Alarza. We only have to know the order of competition, which we will announce the same day of the test. #We areTriathlon pic.twitter.com/dOZzUJ7BC8

- FETRI (@TRIATLONSP) July 28, 2021
Exit positions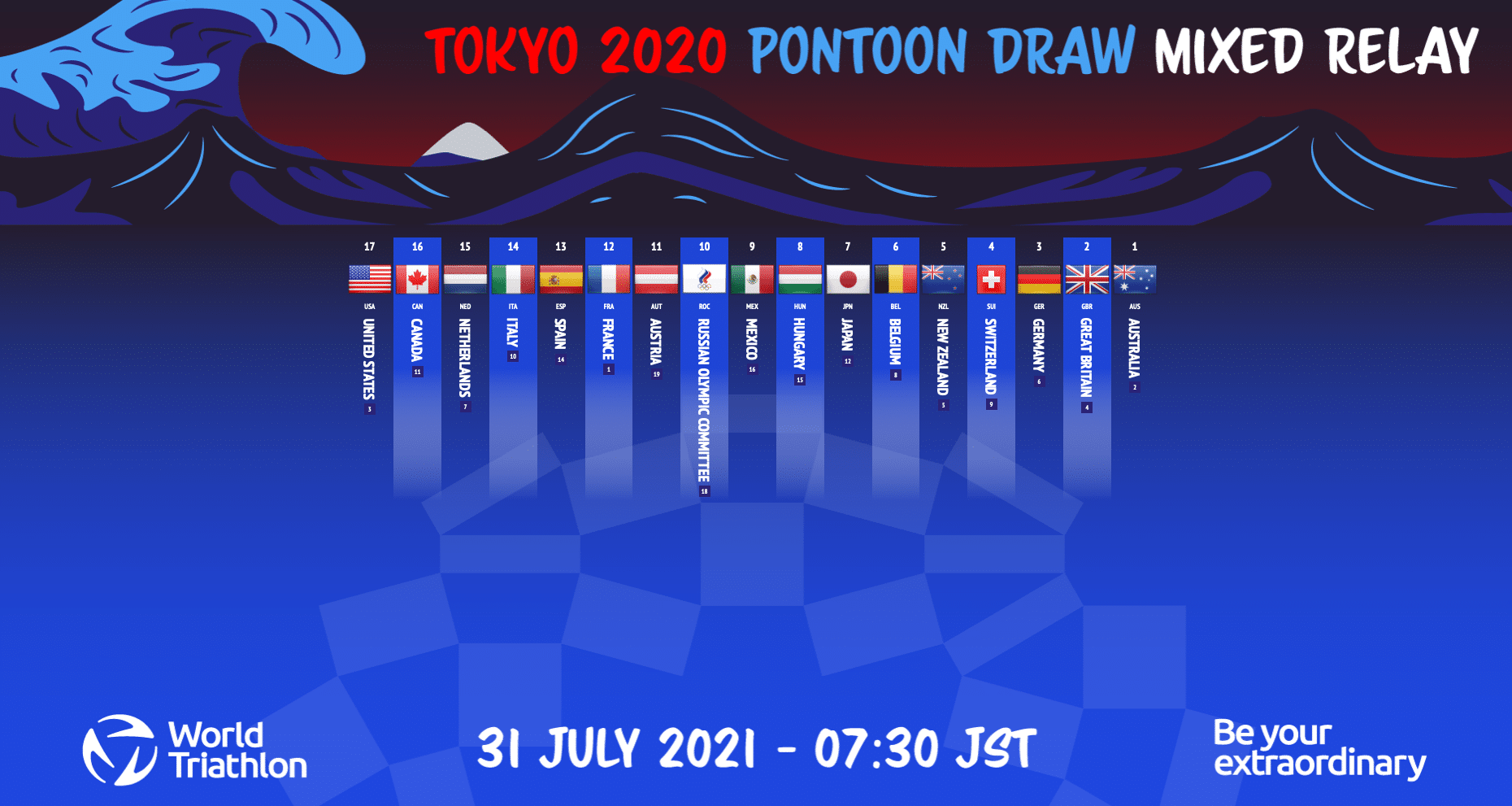 List of triathletes
The start lists have already been published, but these can be modified up to 2 hours before the race
These are the lists of participants
| | | |
| --- | --- | --- |
| Leonie | periault | FRA |
| Dorian | Coninx | FRA |
| Cassandra | Beaugrand | FRA |
| Vincent | Luis | FRA |
| Léo | Bergere | FRA |
| Ashleigh | Gentle | AUS |
| Matthew | Hauser | AUS |
| Emma | Jeffcoat | AUS |
| Jacob | Birtwhistle | AUS |
| Jaz | Hedgeland | AUS |
| Aaron | Royle | AUS |
| Summer | Rappaport | USA |
| Morgan | Pearson | USA |
| Katie | Zaferes | USA |
| Kevin | McDowell | USA |
| Taylor | Knibb | USA |
| Jessica | Learmonth | GBR |
| Jonathan | Brownlee | GBR |
| Georgia | Taylor-Brown | GBR |
| Alex | Yee | GBR |
| Vicky | The Netherlands | GBR |
| ainsley | Thorpe | NZL |
| Tayler | Reid | NZL |
| Nicole | Van Der Kaay | NZL |
| Hayden | Savage | NZL |
| Laura | Lindemann | GER |
| Jonas | Schomburg | GER |
| Anabel | knoll | GER |
| Justus | Nieschlag | GER |
| Rachel | Klamer | NED |
| Marco | Van Der Stel | NED |
| Maya | Kingma | NED |
| Jorik | Van Egdom | NED |
| Clear | Michel | BEL |
| Marten | Van Rail | BEL |
| Valerie | Barthelemy | BEL |
| Jelle | Geens | BEL |
| Jolanda | Annen | SUI |
| Andrea | Salvisberg | SUI |
| Nicola | Spirig | SUI |
| Max | studer | SUI |
| Verena | Steinhauser | ITA |
| Gianluca | pozzatti | ITA |
| Alice | Betto | ITA |
| Delian | Stateff | ITA |
| angelica | Olmo | ITA |
| Amelie | Kretz | CAN |
| Matthew | Sharpe | CAN |
| Joanna | Brown | CAN |
| Alexis | Le page | CAN |
| Yuko | Takahashi | JPN |
| Kenji | nener | JPN |
| Nina | kishimoto | JPN |
| Makoto | ōdakura | JPN |
| Anna | Godoy Contreras | ESP |
| Fernando | Alarza | ESP |
| Miriam | Casillas García | ESP |
| Mario | Mola | ESP |
| Zsanett | Bragmayer | HUN |
| In my opinion | Bicsák | HUN |
| Zsófia | Kovács | HUN |
| Tamas | Tóth | HUN |
| Cecilia | Perez | MEX |
| Crisanto | Grajales | MEX |
| Claudia | Rivas | MEX |
| Irving | Perez | MEX |
| Alexandra | Razarenova | ROC |
| Dmitry | Polyanskiy | ROC |
| Anastasia | Gorbunova | ROC |
| Igor | Polyanskiy | ROC |
| Julia | Hauser | TUE |
| Alois | Knabl | TUE |
| Lisa | Perterer | TUE |
| Lukas | Hollaus | TUE |