Juan Díaz and Belén Izquierdo take the victory in the Half of the ŠKODA Triathlon Series Villa de Madrid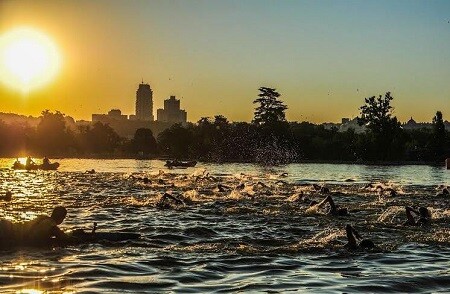 Near 3.000 athletes have been part of this first of the 10 appointments that make up the 2015 season of the largest triathlon circuit
The Half (1.900 m swimming / 80 km cycling / 20 km race on foot) and the Short (1.000 m swimming / 40 km cycling / 10 km race on foot) were the protagonists of the second day of the Triathlon Villa de Madrid.
These two competitions completed an ample program that, during the whole weekend, had the participation of close to 3.000 triathletes that took the exit in all the distances, from Supersprint to Half.
Diaz and Izquierdo, the fastest
Juan Diaz was the fastest in the middle distance when he managed to stop the clock in 4: 02: 53, with more than 5 minutes ahead of second place, Emmanuel Iodice (4: 08: 25). The third place was for Sergio Tizón, in a time of 4: 19: 21.
In the women's category, the victory went to Belén Izquierdo, who crossed the finish line in 5: 03: 56. Behind, Laura Ponce (5: 49: 17).
The Short continues to gain followers, either as a previous step to the Half or to enjoy an Olympic distance triathlon, but without drafting. Manuel Regidor was the winner of the test (1: 57: 03), on a podium completed by Fernando Cuenllas (2: 00: 15) and Alfonso Jiménez (2: 01: 19).
Among the females, the triumph went to Sonia López (2: 11: 38). Second, Maribel Tahona 2: 27: 06) and third, Mercedes Carmona (2: 29: 36).
Next stop: Castellón
The ŠKODA Triathlon Series leaves the Casa de Campo towards El Grao de Castellón, where next Sunday the second round of the circuit is held.
Further information: www.skodatriathlonseries.org
Photo: Cano Photos