The Spanish Triathlon starring at the COE gala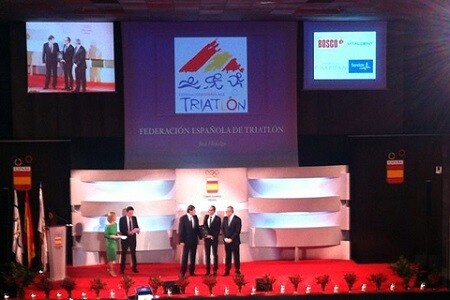 The Spanish Triathlon Federation has been awarded the Olympic Plate for Sports Merit
Last night the XVIII took place in Madrid Annual Gala of the Spanish Olympic Committee (COE). An evening in which the triathlon Spanish played a prominent role, being recognized both for its sporting successes and for its institutional work.
The ceremony was chaired by HRH the Prince of Asturias, and has also been attended by many personalities from the world of sports such as the president of the International Olympic Committee (IOC), the German Thomas Bach, as well as various institutional representatives, such as the president of the Community of Madrid, Ignacio González, the mayor of the Madrid capital, Ana Botella or the president of the Superior Council of Sports, Miguel Cardenal.
During the act, the The Spanish Triathlon Federation has been awarded the Olympic Plate for Sports Merit in recognition of the formidable moment that the Spanish triathlon is going through and the work and management carried out by the Federation. For the president of the FETRI, "the Olympic Plaque for Sporting Merit is not a recognition of the Federation itself, but of all the people who since its creation have contributed their grain of sand. It is a recognition to all the people who have passed through the Federation throughout these years and who have contributed to making triathlon great. It is in short, a recognition of our sport, to the entire Spanish triathlon family ".
In turn, the president of the Spanish Triathlon Federation, José Hidalgo has been awarded with the Olympic Order of the Spanish Olympic Committee, for its link and commitment to the sport over more than fifteen years. Hidalgo has indicated that this distinction is "a privilege because it has allowed me to be a participant and live in the front line the development of our sport during the last 15 years. I am very grateful to have had this opportunity. "
The COE Medals awarded to the two awards are combined Javier Gómez Noya y Mario Mola (both absent at the gala) for their exceptional season, full of brilliant performances; in which among other achievements, Gómez Noya proclaimed himself World Champion and Mario Mola achieved the third position in the final classification.
During the event, the president of the COE, Alejandro Blanco valued the work done by the different awarded Federations, highlighting their sporting successes and the management they have carried out. Blanco, stressed that "all those we have awarded are the true protagonists of this gala." The president of the COE concluded his speech by congratulating all the winners and wishing a 2014 in which Spanish sport overcomes new challenges, to finish launching "A toast to sports, athletes and all of society."
In this way, the COE has wanted to distinguish a dream year for our sport, in which the institutional work and the results harvested by the Spanish triathlon have been rewarded throughout this season.
FETRI