Relay Triathlon for Companies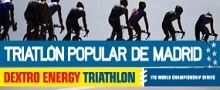 The Popular Triathlon of Madrid encourages companies to participate in the event of the year by creating their own teams to compete.
How to take part? form your Team (1 swimmer, 1 cyclist and 1 runner), sign up www.triathlonpopulardemadrid.com and come to participate, it's that easy.
The distance is Super Sprint relay, in this test you will compete against other companies having the opportunity to do it on the same stage of the Dextro-Energy World Series, Madrid.
The Popular Triathlon of Madrid will be held on the weekend of June 3-5 and in the same place as the World Championship Series test, it will have the presence of the best national and international triathletes.
The test will be held at 14:XNUMX p.m. at the Casa de Campo in Madrid and the distances to be covered will be 300 meters in swimming, 7.7km in swimming and 2.000 meters on foot.