The jellyfish sweep the Triathlon of Salobreña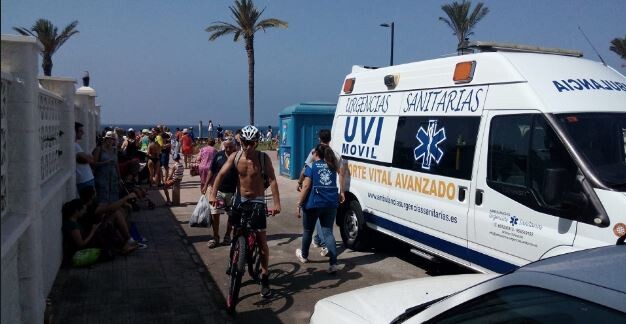 {wbamp-meta name = »image» url = »images / stories / news_08 / jellyfish-triathlon-salobrena.JPG» width = »300" height = »150"}
144 of the 146 participants have suffered jellyfish stings in swimming.
According to the newspaper ideal, the athletes start screaming to be surrounded by a bank of jellyfish
While performing the first test of Triathlon Cross Costa Tropical, on Sunday, 144 swimmers (from 146) were stung by jellyfish that were concentrated at about 100 meters from the shore, on the beach of Salobreña next to the Guadalfeo.
According to the Civil Protection coordinator, Ramón Mesa, the athletes got into the water and when they had been swimming for a few minutes they started to scream and get on the rescue boats desperately.
The swimmers came across a bank of hundreds of jellyfish, a brown patch that began to surround the swimmers and itch uncontrollably.
The athletes were wearing summer wetsuits and there were stings on the arms, legs and on the head. There are those who got itchy on the lip. The bites were important and some had to be punctured by Urbason before the situation got complicated.
The Civil Protection team and another one of sanitary emergencies began to take care of the 144 athletes who had been chopped, by piece. "They have been moments of chaos, we have been overwhelmed," said Ramón Mesa, who points out that some people have wanted to continue with the cycling and swimming test.
Photo: Motril DIgital