Triathlon, an inclusive sport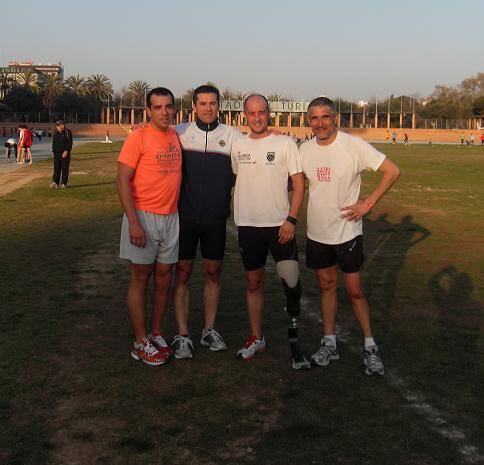 In 2007, the International Triathlon Federation, ITU, included the participation of paratriathletes in international events, specifically in Hamburg. In 2009, the Spanish Triathlon Federation, FETRI, organized the first Spanish Championship in Pontevedra.
It is in the year 2012 when the Triathlon Federation of the Valencian Community has taken the step forward to start the Paratriathlon Technification Program aimed at detecting possible sports talents and offering a whole series of actions aimed at improving the sports level and performance of athletes so that they can achieve their sporting goals, which, despite having been working to promote sport in people with some type of disability since 2001, has been this year when the paratriathlon project has come to light.
With the aim of making Triathlon an "Inclusive Sport", initiatives like this one, as well as the promotion of this sport in minor categories or programs such as "Triathlon and Women" have emerged. Projects that should not be overlooked: Triathlon, a sport for everyone.
Today we were able to interview Javier Martinez, Technical Director of this program within the Valencian Triathlon Federation.
Javier, tell us who is in charge of this initiative and how do you plan the training sessions?
It is managed by the LBSF and the program is carried out by:
Javier Martinez Gramage. Program Technician
Vanessa Huesa Moreno. Technical Director, Program Coordinator.
Jose Luís Pérez Climent. Sports Psychologist
Three face-to-face training sessions are held. The running race takes place on Mondays and Wednesdays at 18:00 p.m. in the Sports Center of Section III of Valencia and the swimming on Fridays at 16:00 p.m. in the Ricardo Ten Pool in Benimámet. The trainings focus on improving sports technique, adaptation needs in sports equipment and control in the evolution of sports performance.
How many paratriathletes does this program have?
It currently has three paratriathletes; Santiago Soliño Nebot, Juanjo López Esteve and Valeriano Moreno García.
Any representative result?
The three paratriathletes are athletes included in Technification for the merits achieved in 2011. Santiago Soliño is the current Champion of Spain in TRI 3, Runner-up in the Cross Triathlon World in TRI 3 and fourth in the European Triathlon, Valeriano Moreno was third in the Spanish Triathlon Championship in TRI 3 and sixth in the European and Juanjo López was sixth in the Spanish Triathlon Championship in TRI 5 and recently he was proclaimed in Valencia the Spanish Medium Distance Champion in TRI 5.
Future views:
As Technification, work hard so that paratriathletes achieve the best results in 2012 and are eligible for ADOP scholarships to focus on preparing for the next Paralympic Games in 2016.
As a Federation, to be an example of integration between athletes with and without disabilities, facilitating participation in regional competitions.
As a goal, create a paratriathlon school so that the youngest can start in this beautiful sport.
We cannot end this interview without echoing Javier's statement "Really, the great thing about this group is not the results but the people who make it up. The values ​​they transmit in each training session, in each competition are an example of constant improvement, humility and perseverance "