The Villa de Madrid Triathlon will gather 3200 athletes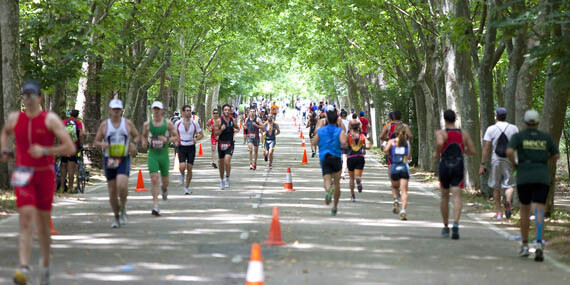 This weekend, from 09: 00 to 21: 00 hours on Saturday and 07: 00 to 13: 30 hours on Sunday, is held at the Casa de Campo the '22th edition of the Triathlon Villa de Madrid 'Organized by the Madrid Triathlon Federation and with a closed participation in 3.200 athletes.
The City Council collaborates in this new edition with the support of the Municipal Police for the control of access and the security device, health coverage through SAMUR and the technical coordination of the different assemblies, as well as in the work of information and communication of the event.
El Triathlon Villa de Madrid It is the first of the appointments of the national circuit of popular triathlons, in which it is integrated three years ago, the 'Wild Wolf Triathlon by Polar ', presenting a characteristic that makes it unique in the world, the multi-distance, contesting super sprint, sprint, Olympic, relay and half (half ironman) events to accommodate the participation of athletes of all levels and serve the promotion of this sport modality. Thus, the Madrid triathlon ranks as the second with the most participation in Spain, after Barcelona, ​​since it must limit the number of participants when taking place in a lake, which limits the outputs of 80 to 80 athletes, while in the Ciudad Condal is made in the sea.
As a novelty, it has an unprecedented test: the 'SHORT Circuit', with the distance of 950 meters of swimming, 40 km of cycling to finish with 10 km of running, although the highlight of this event is still the test of Middle distance (1900m / 80 km / 20 km), which is celebrated on Sunday, fulfilling its second edition.
The queen test consists of a swimming segment that takes place in the Lake of the Country House and consists of 2 laps until completing the 1900 meters, to then move on to the cycling segment, which runs through the Casa de Campo and secondary roads, where the triathletes have to complete an 80 km circuit in four laps, and finish with 20 km in the running segment, on a very fast and practically flat four-lap course, allowing spectators and triathletes to share this challenge closely.
He 'WILD WOLF Triathlon Series by POLAR'Madrid is a unique opportunity to debut or improve brands in the middle distance thanks to the design of its circuit, considered the most attractive and spectacular, which runs almost entirely through the Casa de Campo and secondary roads perfectly marked and cut to traffic .
In short, a weekend of great sporting level to enjoy in a city with an Olympic vocation.
Source: madridactual.es