TriGrandPrix Stage 2: BH Zarauzko Triatloia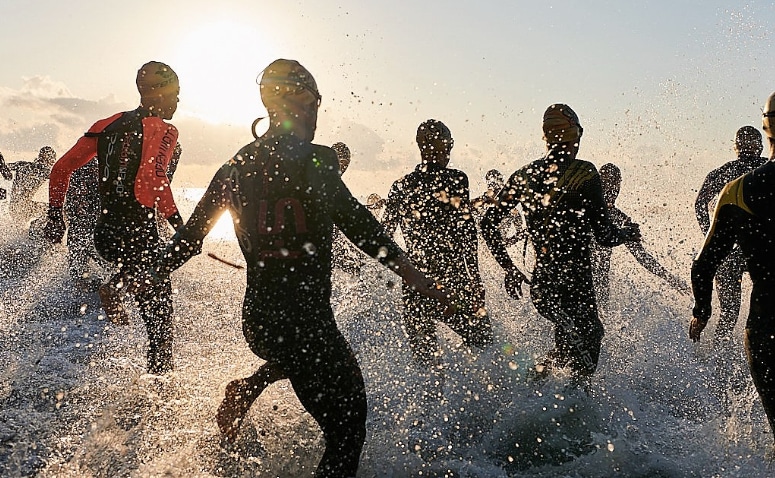 This year the organization has broken the participation record con 700 participants, the BH ZARAUZKO TRIATLOIA 2011, second stage of the TriGrandPrix, will be the most numerous of its editions, which, as you already know, this year reaches its silver anniversary. But, in addition to increasing the number of participants, the level will also be maximum, since the present winners of the IM from Utah (Mathias Hecht), IM from Texas (Eneko Llanos and Catriona Morrison), IM from Lanzarote (Timo Bracht) and also other triathletes who have recently won important races.
On the starting line will be the very champion and 8 times winner of Zarautz Eneko Llanos (2010, 2009, 2008, 2007, 2006, 2003, 2002, 1997). Eneko with his second place in Hawaii 2008, his victory in Abu Dhabi and his undeniable victory in Texas make him once again the favorite for 2011.
But Eneko will not be alone in Zarautz. Timo Bracht comes from destroying the record of the IM of Lanzarote with 8:30:34 putting him 14 minutes to second place. Mathias Hecht already knows Zarautz and says he is at his best and highly motivated after winning the Utah IM.
Mikel Elguezabal comes from doing a stratospheric partial in Bilbao with Bjorn Andersson, who will also be in Zarautz. Herve Faure is also a favorite with a creditable second place in the Maresme Challenge. Along with them the list of strong Triathletes is endless: Clemente Alonso, Francesc Godoy, Francisco Pontano, Hektor Llanos, Jon Unanue, Miquel Blanchart, Owen Cummins, Peru Alfaro, Richard Calle, Tom Sturdy, Xabi Boneta and Raul Amaitrian.
On the female side the favorite is Catriona Morrison. Winner of the Zarautz Triathlon in 2010, 7 times ITU duathlon champion, 6 wins 70.3, 3 times IM champion, she is undoubtedly the person to follow in the female category. Cat had a fantastic 2011 winning the 70.3 at St Croix, Texas and maybe Zarautz again?
Catriona will be competing with an Eva Ledesma who seems from another planet winning the first two Challenge of 2011. Jodie Swallow, world champion, may be a candidate for victory but an ankle injury has her in doubt for victory. Julia Grant has just won the UK TriGrandPrix and Ana Burgos and Natalie Barnard cannot be ruled out for their undeniable quality.
The real surprise may be in Anna Cleaver. Anna Cleaver is Siri Lindley's new star (Mirinda Carfrae and Leanda Cave's coach). Anna, New Zealand swimming champion for 7 years, will possibly be the first to cover the 2.5kms from Getaria to Zarautz. Anna is already in Zarautz and has recognized the circuits saying "I have never seen anything like it".
This 2011 will undoubtedly be a very special edition. On the one hand, we will celebrate the silver anniversary and on the other we will also enjoy an international race where the cycling circuit is closed to traffic, improving the safety and spectacularity of the circuit.