Triumph and Record for Clemente Alonso in the Challenge Barcelona-Maresme 201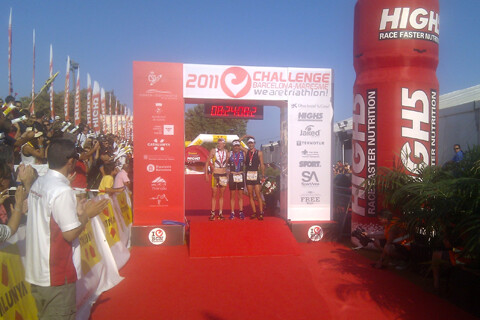 This weekend the Challenge Barcelona-Maresme was held, qualifying for the Spanish Long Distance Championship, which this year has a Spanish champion again. In 2009 it was Marcel Zamora who premiered the list of winners and in 2011 it was Clemente Alonso who took the glory in one of the fastest growing long distance triathlons in Europe. Calella de Mar returned to the cause of triathlon and the organization took another step forward with a competition
Clemente's victory means closing a spectacular season, in which he has won at Zarautz and brushed victory at the Ironman De Zurich. Clemente's triumph is more than deserved, the triumph of a brave approach, which can sometimes be a sports suicide but had a happy and brilliant ending. In the end, the triumph was accompanied by a fantastic record, by taking away the record from Marcel Zamora, who in 2009 scored 8: 15.37 for Clemente Alonso's 8: 15.25
His victory comes from the first stroke at sea. He was always in the lead. He came out in the leading group of the swimming and from the first meter in the cycling sector he decided that he should put a hectic pace. No one could follow him and every kilometer his difference increased. Halfway through he already had three minutes with the chasing group led by the British Bayliss and the Ukrainian Blokhin, while behind the European champion Miquel Blanchart and the Germans Bittner and Wagner could not cut.
This enormous effort made the marathon circuit begin with an important advantage. 8 minutes on Bayliss and Blokhin. Clemente's tactic doesn't usually go well. Going to the maximum on the bike usually has negative consequences in the athletics sector but in this case Clemente Alonso knew how to really suffer. The marathon was a nightmare for the Salamanca triathlete but the head-to-leg battle was won by the head.
Mile after mile, he watched as time was cut. It looked like it was going to sink, but it knew how to draw forces that seemed not to exist. The German Bittner put pressure but Clemente perfectly measured the difference and dosed wisely. That is what experience is worth and Clemente has a lot.
The last five kilometers were of enormous suffering for the winner. He felt that the German was approaching him but despite the little strength he kept the difference and was happy to get the record. Almost nothing…
Regarding the women's category, the race remained very even in the first two sectors but in the marathon it was the Australian Mitchelle Mitchell who was stronger, beating the Hungarian Erika Csomor by the finish line by 3:37, who couldn't keep up the pace in the final 10 kilometers. The podium was completed by the British Lucy Gossage 6 minutes from Mitchell.
CLEMENTE ALONSO: "I have never suffered so much in a competition"
An exhausted Clemente Alonso and almost without the strength to even smile assured that "I have never suffered so much in my life in a competition. I don't know where I got the strength to win but I did it and I am very happy with this result in a test of Challenge's international prestige.
The man from Salamanca did not feel that "in swimming he had gone fast but he did. Later, on the bike, I saw people with doubts and decided to shoot. I have seen that differences end and I have gone to the max to make a difference. This tactic usually goes wrong because you empty yourself and you fall apart in the marathon but I have known how to suffer because I really had a very bad time. "
In the last sector Clemente feels that he has never been comfortable, that he has had to fight to the maximum. In fact, the gesture he made to the German Bittner as soon as he saw him enter betrayed the suffering he had experienced. He looked at him and it represented something like, you made me take everything out, you killed me, but the winner was Clemente who did not see himself as the winner: "until I saw the finish line because I had mixed feelings, sometimes I saw myself as the winner and others I did not see it. In fact, in the last few kilometers I was very dizzy and I didn't have all of them with me but I have won and that's what counts. "
ratings
Elite Men
1 Clemente Alonso (ESP) 8.15: 25
2 Per Bittner (ALE) 8.18: 53
3 Dejan Patrcevic (CRO) 8.23: 10
4. Victor del Corral (ESP) 8.28: 19
5 Jens Pettersen (DEN) 8.30: 01
Elite Women
1 Michelle Mitchell (AUS) 9.15: 00
2 Erika Csomor (HUN) 9.18: 47
3 Lucy Gossage (GBR) 9.21: 01