A forest fire affects the port of Morcuera, in the Sierra de Guadarrama National Park
Seven aerial and 15 terrestrial means work in the area to prevent it from spreading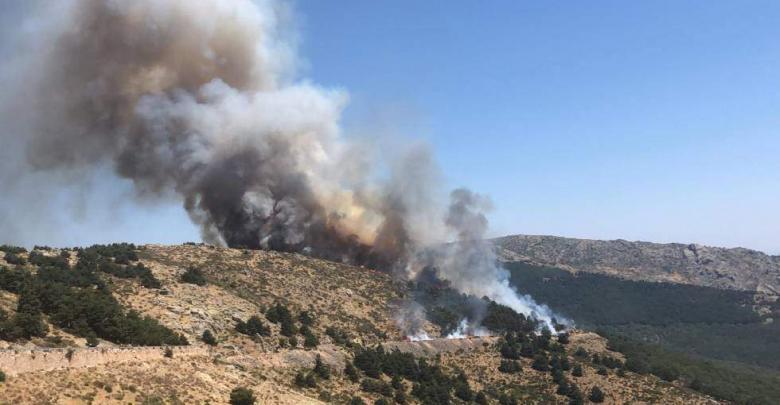 According to the newspaper El País, a Forest fire that began shortly before two in the afternoon this Sunday is affecting the National Park of the Sierra de Guadarrama, specifically in the port of La Morcuera, between Rascafría and the Madrid municipality of Miraflores de la Sierra.
The M-611 road has been cut for about an hour to allow the passage of emergency vehicles.
The fire is still active
Favorable evolution of #IFMiraflores and #IFLaGranja However, it works with the same intensity. Without lowering my guard#BomberosCM #Forestal AgentsCM #BrigadasForestales #SUMMA112 @Civil Guard PC and local police # Scratch pic.twitter.com/Rlv0DxAUno

- 112 Comunidad Madrid (@112cmadrid) August 5


This is one Very common route among bicycle lovers in the Community of Madrid who take advantage of weekends to make a route through the mountain of Madrid.

The fire has started byr causes not yet clarified and has advanced along a slope thanks to the wind that runs in the area. There is no population center nearby. The flames have caused a large column of smoke, visible from the capital.

#IFMiraflores Intense work of land and air media in the extinction of fire. #BomberosCM #Forestal AgentsCM #BrigadasForestalesCM @Civil Guard #SUMMA112 PC pic.twitter.com/WyDK0pYfD4

- 112 Comunidad Madrid (@112cmadrid) August 4st, 2019


Six have moved to the place helicopters, for an seaplane and a large capacity airplane to the Ministry of Agriculture, Fisheries and Food, according to an 112 Emergency spokesperson. 15 is working on land by firefighters and forest brigades.

One of the problems that are responsible for extinction is that the wind is constantly changing direction. This motivates the flames to progress uncontrollably. The area is characterized by low mountain and pine vegetation, but there are also areas without vegetation being high mountains (1.796 meters of altitude).

The advanced command post, from which the extinction work is controlled, has been installed in the shelter of the Port of La Morcuera.