A 19 year old swimmer beats Michael Phelps' legendary record in the 200 butterfly meters
Hungarian 19 swimmer Kristof Milak has won the world gold win in Gwangju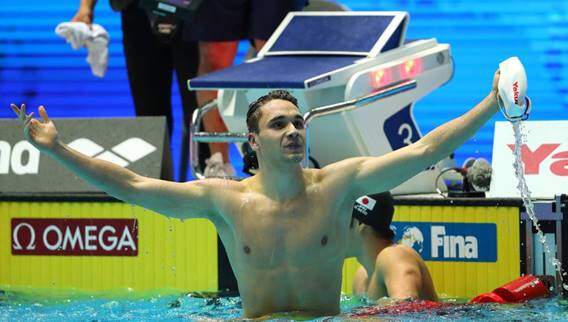 The Hungarian swimmer of 19 years Kristof Milak has won wins the world gold in 1: 50.73 downgrading the second by almost 1 time: 51.51 achieved by the American Michael Phelps at the 2009 World Cup in Rome.
With this time he has achieved the world record in the distance in the end of the butterfly 200 at the Gwangju World Cup
This brand makes Hungarian the first man who is not Phelps to beat the butterfly mark of 200 since the year 2001. Until now, no one besides the American had gone down one minute 52 seconds in this distance.
In the test it has surpassed in Japanese 3,13 seconds Daiya Hedge (1: 53.86) that reached the goal in second place, overcoming the greatest advantage that Phelps got over an opponent, of 3,04 seconds, in the Melbourne World Cup of 2007.
STOP THE PRESSES! A fantastic new World Record from 19-year old Kristóf Milák of Hungary in the Men's 200m Fly beating Michael Phelps old mark of 1: 51.51, set a decade ago in Rome, with a new time of 1: 50.73… Outstanding! ??#Swimming #FINAGwangju2019 pic.twitter.com/Qr2DiOGDG3

- FINA (@fina1908) 24 de julio de 2019


Results of the 200 butterfly men's final

1 Kristof Milak (Hungary) 1: 50.73

2 Daiya Seto (Japan) 1: 53.86

3 Chad le Clos (South Africa) 1: 54.15

4 Federico Burdisso (Italy) 1: 54.39

5 Denys Kesyl (Ukraine) 1: 54.79

6 Zach Harting (United States) 1: 55.69

7 Leonardo de Deus (Brazil) 1: 55.96

8 Tamas Kenderesi (Hungary) 1: 57.10