Triathlon News
An ultrafondista runs 155 km to 4: 38 on average
The Uruguayan ultrafondista Iván Penalba pulverized his record of Spain of 12 Hours on Sunday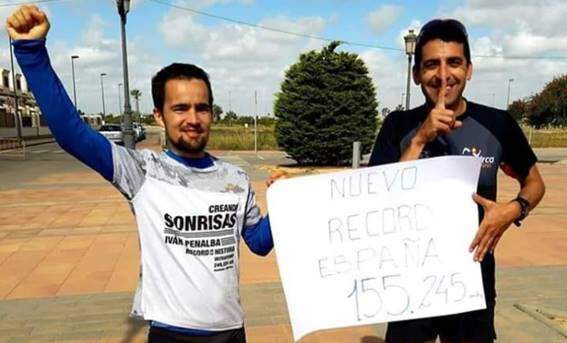 We echo this news published by Super Sport, where they report that the Valencian ultra-fighter Iván Penalba, 27, beat last Sunday the Spain record of 12 hours in Los Alcázares (Murcia) completing a distance of 155,245 km
This time achieved involves running twelve hours without stopping at a 4 mean: 38 min / km, Something awesome. It's already difficult to run a marathon at that pace, so imagine 155 km.
In Super Sport, he commented: «Being a night test I got along quite well, despite the heat of this weekend and the wind. At night something was complicated, when running much of it alone, but I was lucky to avoid the hottest hours, and managed to reach 155,4245 km which is the new record in Spain, and best world brand of the year"
3 weeks ago, he achieved victory in Finland with kidney failure and pulmonary edema
The athlete came to this test from Murcia, to take it as a training, since he participated in a test in Finland 3 weeks ago, where he had a kidney failure and pulmonary edema.
In this 12-hour competition, he won with a distance of 139,1 km
Competed with medical approval
"TOWhen I returned to Valencia, I had a check-up with the cardiologist Darío Sanmiguel and I was lucky because it had no sequelae. He set me the guidelines to follow to achieve an optimal recovery and to be able to do this test in Murcia as training, but we saw that the times were going and I was fine"Added this solidarity ultrafondista who continues to" create smiles "with his project to collect food and clothing for disadvantaged families
Concentration at height, the secret of your successes
In addition to his coach Fabian Campanini, who has been at his side for a year, and together with whom he has developed "a particular training method that has been key in his recent successes", Iván Penalba highlighted the influence that his concentration had on this record during the month of April at the altitude of Sierra Nevada, at more than 3.000 meters. «I was training at height in Granada, for four weeks before going to Finland, and it is something that has also been key».