Unai Yus, new Spanish Duathlon Champion cros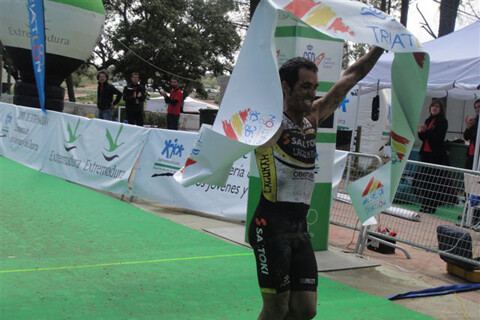 This year's edition was presented as a very open test and even more so with the foul on the starting line of the last Spanish champion Victor del Corral who on Saturday chose to participate in the Cross Triathlon World Championship.
The problem arose when seeing many aspirants for the title on the starting line, from which Unai Yus would ultimately be proclaimed champion, who in 2010 was proclaimed runner-up, passing through Almagro who did not have that day he expected and could only being 7th and a long list of applicants such as Gustavo Rodriguez, winner of the 2011 Poio Qualifier, and other applicants such as Nieva, Diaz...
José Almagro tried to break the test but the Mexican Mario Salazar did not consent not to be the one who will set the pace of the race. At the start he put all the participants in a long line, although later in the bike segment Salazar sank into the mud and opted for withdrawal. When leaving with the bicycle, it was Salazar himself, Gustavo Rodriguez and Almagro who were going to lead the test.
Going through the first round on the bike, just in the middle of the race, Unai Yus achieved an important difference that he would not lose until he crossed the finish line in first position and won the title of Spanish and Ibero-American Champion.
Magnificent surprise and good performance on the bicycle of Francesc Freixer who achieved a silver medal in his first appearance in the Spanish championship.
The bronze for Gustavo Rodriguez de Cidade de Lugo.
RANKINGS