Uxio Abuin Bronze in the Premium European Cup of Triathlon held in Holten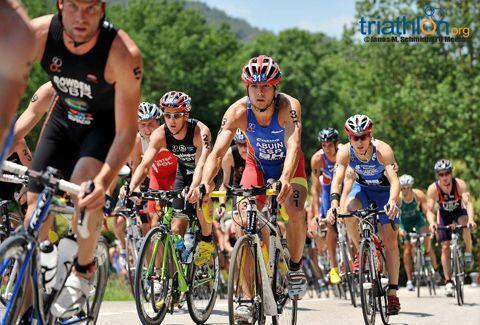 Last Sunday, July 8, the Dutch town of Holten became the venue for the Premium Triathlon European Cup. A historic setting in the world of triathlon, Holten is used to hosting various international competitions in this discipline. On this occasion, the city dressed up to host an exciting weekend dedicated to triathlon.
The triathletes faced two laps (1.5 km) of swimming in the artificial lake of 'de Domelaar'. They then made the corresponding 40 km of cycling through the center of the city, with steep slopes in the surroundings of the national park. To finish with four laps of running, until completing the statutory 10 km, through an urban circuit.
In the male elite category, the triumph went to the Teuton Gregor Buchholz. Along with him, the British Thomas Bishop reached the silver medal, and third place went to the young Uxio Abuin. In a remarkable race, the Galician won the bronze medal after occupying the top positions throughout the course. While Ricardo Hernández finished in 19th position.
While in the elite women's category, Rachel Klamer managed to keep the title for the second consecutive year after a great exhibition. Local triathlete Klamer dominated the entire contest from start to finish. Behind and completing the podium, came the Russian duo formed by Evgenia Sukhoruchenkova and Irina Abysova; silver and bronze respectively.
For their part, the two Spanish women in the running obtained some meritorious performances, with María Ortega achieving 10th place and Melina Alonso finishing 16th.
Elite male classification:
1 Gregor Buchholz ALE 01: 46: 37
2 Thomas Bishop RU 01: 46: 44
3 Uxio Abuin Ares ESP 01: 47: 02
4 Ivan Kalashnikov RUS 01: 47: 37
5 Ryan Fisher AUS 01: 48: 10
---
19 Ricardo Hernández ESP 01: 50: 25
Female elite classification:
1 Rachel Klamer HOL 02: 00: 29
2 Evgenia Sukhoruchenkova RUS 02: 02: 09
3 Irina Abysova RUS 02: 02: 17
4 Sarissa De Vries HOL 2: 02: 31
5 Gillian Sanders RSA 02: 03: 19
---
10. Maria Ortega ESP 02:06:05
16 Melina Alonso ESP 02: 08: 00
FETRI