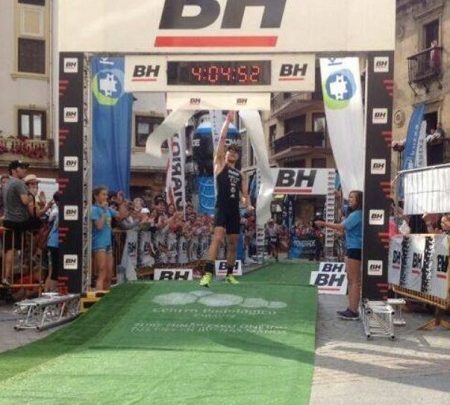 The Spanish Uxío Abuín and the British Catriona Morrison have been the winners of the XXVIII International Triathlon of Zarauz, marked by the wind in the swimming and cycling events.
The triumph of Uxío Abuín, triathlete of 23 years born in Lestrobe-Dodro (La Coruña) and habitual of the Olympic distances in his first experience in a half Ironman, was forged in a time of 4 hours 4 minutes 53 seconds.
The swim test on 2.900 meters, carried out in the open sea between the beaches of Malkorbe and Zarutz, was characterized by a considerable swell that, nevertheless, had the favorable factor for the swimmers to do it with the currents in favor so In general, the times were good.
The cycling segment of 81 kilometers, in which the abandonment of one of the favorites, Aimar Agirresarobe, was recorded, was developed with remarkable ambience in the ditches, especially in the Aia wall and the Txurruka high.
Another important retreat was that of Pedro Miguel Reig from Alicante, who did not compete in the last 20 kilometers of running races through the urban center of Zarautz, in which the triathletes were animated by a crowd that filled the most emblematic streets and squares.
Abuín, who was on the verge of the bronze medal in the European sub-23 of 2013 and repeatedly member of the Spanish team, had a great competition in the Scottish Fraser Cartmell and Roger Serrano during the course of the race.
He led the event in third segment, while the second place was played by the Cartmell sprint and the Catalan firefighter Joan Ruvireta, of Vic Tri.
Guiderwoman Maider Gaztañaga, at the end of the second triathlon in general, dominated the swim and a good part of the ride on the bike, but the Scottish Catriona Morrison overcame her in the athletic event to reach here in Zarautz her third triumph after the obtained in 2011 and 2013.
Classifications:
Male
1. Uxío Abuín 4h.04: 53
2 Fraser Cartmell (GBR) to 0: 05
3 Joan Ruvireta to 1: 01
4 Diego Paredes to 4: 19
5 Jon Unanue to 4: 50
Feminine
1 Catriona Morrison (GBR) 4h.25: 58
2. Maider Gaztañaga to 3: 32
3 Saleta Castro to 27: 54.
(EFE).
Photo: Kike Goce Pereira