Several Spanish Triathletes in the Top 10 of the European Cup held in the Netherlands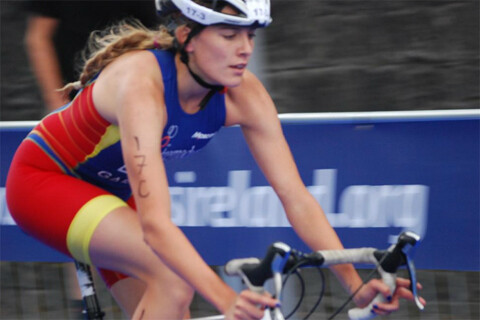 This weekend the Premium Triathlon European Cup was held in the Dutch city of Holten. The Women's Podium was for the Dutch Rachel Kalmer, who managed to complete the 1500 meters of swimming, 40 km of cycling and 10 km of running through the center of the city of Holten, with a total time of 2:01:04 minutes. In the Top 10 of the event and representing Spain, Tamara Gómez managed to reach the finish line in 7th position followed by Giomar Quiñones who arrived in 12th position. Ana Burgos and Marta Jiménez who failed to finish the test.
The water temperature was 19º, the triathletes had to complete two laps of swimming where the use of neoprene was necessary. The first to get out of the water was Radka Vodickova followed by Rachel Klamer. In the cycling segment a leading group was formed, with Klamer (NED), Vodickova (CZE), Knapp (GER), Lang (GBR), Schaerer (SUI) and Jackson (GBR) with an advantage of about three minutes over the persecuting group, which Kalmer led, proclaiming herself the winner of it.
In the men's category the first place went to the Australian Mitchell Robins with a total time of 01:49:57 followed by the Belgian Simon de Cuyper and the German Loeschke Franz. Jorge Naranjo was the first Spaniard to finish the test 5th position and a total time of 01:51:03, followed by Ricardo Hernández, 13th, Jariel Naranjo, 27th and Uxio Abuin, 39th.
An exciting test due to the battle between the Australian Mitchell Robins and the Belgian Simon de Cuyper, who remained almost even throughout the race, completing the three segments with just seconds apart. It was in the foot race that Robins took the lead, and in this way he managed to take the first position on the podium "This is the first time he has competed in the Netherlands. The cycling segment has been hard due to the heavy rain that made the ground slippery. Of course I had hopes of winning, but the competition has been stronger than expected. Fortunately I have succeeded. "
The next Premium European Cup will be held in Banyoles on July 31 in which there will be a great Spanish representation.
Call:
http://ac.triatlon.org/images/stories/2011/convocatorias/CE_Banyoles.Convocatoria-1.pdf
RESULTS OF THE TRIATHLON PREMIUM EUROPEAN CUP - HOLGEN
TOP 10 in Elite Female Category
| | | | | |
| --- | --- | --- | --- | --- |
| 1 | Klamer | Rachel | NED | 02:01:04 |
| 2 | Vodickova | Radka | CZE | 02:03:05 |
| 3 | Long | Kerry | GBR | 02:03:48 |
| 4 | Knapp | Anja | GER | 02:04:50 |
| 5 | Nivon Machoud | Ruth | SUI | 02:06:03 |
| 6 | Schaerer | Celine | SUI | 02:06:10 |
| 7 | Gomez Garrido | Tamara | ESP | 02:07:16 |
| 8 | Jackson | Heather | GBR | 02:08:00 |
| 9 | Stoltz | Wencke | GER | 02:08:31 |
| 10 | Stroschneider | Tanya | TUE | 02:08:50 |
TOP 10 in Male Elite Category
| | | | | |
| --- | --- | --- | --- | --- |
| 1 | Robins | Mitchell | AUS | 01:49:57 |
| 2 | From Cuyper | Simon | BEL | 01:50:03 |
| 3 | Loeschke | Franz | GER | 01:50:29 |
| 4 | Duchampt | Felix | FRA | 01:50:47 |
| 5 | Vichot orange tree | George | ESP | 01:51:03 |
| 6 | Bailie | Ryan | AUS | 01:51:05 |
| 7 | Malyshev | Yulian | RUS | 01:51:19 |
| 8 | Gonzalez | Rodrigo | MEX | 01:51:25 |
| 9 | Gunby | Matthew | GBR | 01:51:37 |
| 10 | Schilling | Andreas | THE | 01:51:47 |
All results: http://www.triathlon.org/results/results/2011_holten_itu_triathlon_premium_european_cup/5729/
Source: FETRI