Black summer for triathletes with airlines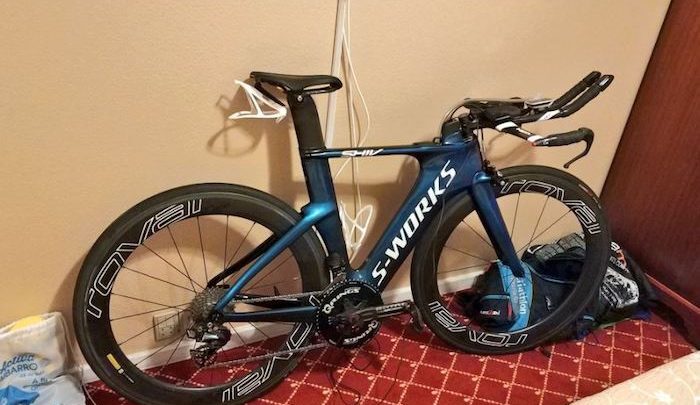 {wbamp-meta name = »image» url = »images / stories / news_08 / pablo-dapena-perdida-bicicleta.jpg» width = »300" height = »150"}
The last months are being difficult for many triathletes and paratriathletes because the airlines are losing them or breaking the bicycles
One of the moments where a triathlete goes through more nerves and insecurities is during the wait to pick up his bike after a flight.
In many cases those minutes are eternal, believing that your bike has not arrived, but most of the time it does. When this does not happen, it is a hard and stressful time, having to make the claim of loss of luggage, notify on Twitter, call by phone, etc ...
The worst thing is that there is always little information given to a triathlete when his bike has been lost and this still causes more moments of nerves. Another difficult moment is to find a hit in the box, where you can see the "treatment" that the bike has received and that in many cases leads to something breaking when opening the bicycle's suitcase.
These are some of the cases of triathletes affected during the last months due to delays, losses or breakages of their bicycles.
Roberto Sanchez Mantecón
He was more than 30h without knowing anything about where his bike was, on a flight from Alicante-Barcelona-Cagliaria with Vueling, the days before the Cagliari World Cup in Italy
More than 30h without knowing where my bike is, thanks to @vueling for ruining so many hours of work, on a flight Alicante-Barcelona-Cagliari does not reach its destination and do not know where it is. Surely I will not be able to compete with my bike in the #WCCagliari, for your incompetence.

- Roberto Sanchez (@Robertotriatlon) May 31th 2018

Gurutze Frades, Emilio Aguayo and Pablo Dapena

The three suffered the loss of their bicycles in the return to Spain after competing in the LD World Championship of Fyn in Denmark, on a flight operated by Iberia. In the case of the Basque was up to six days without your suitcase with the bike.

Hello @ Iberia I still do not have any news about my bike ... The tracking does not mark anything and you are not giving me any information ... What do you want me to do? I keep waiting with my arms crossed, I put a demand ... I do not know ... I let you choose ...

— Pablo Dapena Gonzale (@pablitopiny) 16 de julio de 2018

I arrive in Denmark to compete in the most important race of my career so far and @ Iberia I lost my bike bag and found it the day before. On the way back I'm losing the two suitcases and they still do not know where they are ... Great job @iberia ??? RT

— Emilio Aguayo Muñoz (@aguayotri) 16 de julio de 2018

Hello @ Iberia 3 ° day without knowing anything about my sports equipment, valued at 16000 € Solutions?

— Gurutze Frades (@gurutzefrades) 17 de julio de 2018

Pablo Dapena

In addition to the aforementioned, Pablo also suffered the loss of his bike on the way to Fyn and on the way out before competing in the Challenge of Prague, the three times with Iberia flights



Today there are no excuses for airplane delays or anything.
My bike has not come with me to Prague and again to cross my fingers so that things arrive on time.
This can not be @ Iberia It is an authentic shame.

- Pablo Dapena Gonzale (@pablitopiny) 26 de julio de 2018

Susana Rodríguez and Paula Garcia Godino

Before competing in the European Paratriathlon Championship, they broke the tandem, on a Ryan Air flight from Lanzarote

Link of the tweet: https://twitter.com/SuRGAcio/status/1018408134178680832

60 € per way for you to treat the sports equipment like this. @Ryanair_ES my bicycle could only be damaged after throwing it from 1 considerable height and only thus be able to bend the steel support. Tomorrow with @TRIATLONSP I travel to the CTO of Europe without tandem (paralimpic sport) and its bag pic.twitter.com/9dpPLTqiWl

- Susana Rguez. Gacio (@SuRGAcio) 15 de julio de 2018

Vicente Arzo

He could not compete in the European Paratriathlon Championship, as Air France delayed the delivery of his running and hand bike saddle and did not arrive in time to compete.

And today it's up to @AirFranceES @air France which takes more than 72 h the delivery of the running chair and handbike of the companion of @TRIATLONSP Vicente Arzo and he is unable to run the Cta de Europa Paratriatlon @worldtriathlon in Tartu (Estonia) SHAME! All my support pic.twitter.com/SDmqAogQmj

- Susana Rguez. Gacio (@SuRGAcio) 19 de julio de 2018

Noel Zafra Raya

His bike did not arrive in Tallinn to compete in the Ironman of the Estonian capital. It was an Air Baltic flight operated by Iberia. Zafra had to compete with a borrowed bike, which limited its performance losing its options to qualify for the IM of Kona, its main objective.

Is incredible. My friend Noel, in the end had to participate in the @IRONMANTRI from Estonia with a borrowed bike because @airBaltic on a flight operated by @ Iberia He lost his bike and ... nobody knows where he is yet! Can you RT?@pablitopiny @Statacastro @Triluarca @gurutzefrades

- Emilio ?? (@tri4dream) August 6st, 2018

By general rule, the greatest impotence a triathlete suffers when he loses his bike is the treatment received by the airlines, the little information that is given to them about where their bicycles are and why the luggage has not arrived with them.

In the return of the Cagliari World Cup, our friend, the Argentine triathlete Gonzalo Tellechea also suffered the loss of his suitcase with the bicycle, on a Cagliari-Barcelona-Madrid flight, operated by Vueling.

We help you with the steps personally. We had to make many calls to a payment number, with a cost of 0,80 € per minute, where after waiting for many minutes "because the lines were busy" it sends you to an answering machine, where they ask for the number of the incident and you only They say they have not found your luggage yet.

In the end the invoice amounted to more than 30 € for all calls in search of a response.

@vueling One more day and do not give me news of my competition bike, YA ARE 48 WITHOUT NOTICE OF my work tool. Tomorrow I must travel to Mexico and I need it urgently because without it I can not travel. I want YAAAA solution !!!!

- Gonzalo Tellechea (@GonzaTellechea) June 5th, 2018

From Triathlon News, we hope that there will be no more bicycles lost during this summer and we encourage the airlines to improve the bicycle transport service, because the athlete has to pay an extra.