Vincent Luis wins the Valencia Triathlon World Cup
Antonio Serrat was fifth and Roberto Sánchez Mantecón eighth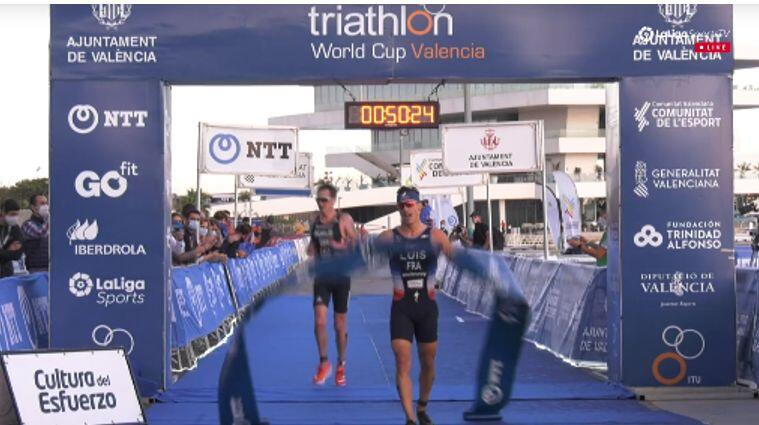 After the women's competition, where the British Beth Potter has taken the victory, it was the turn of the men's test with 52 triathletes in the starting line.
The competition to be held on sprint distance will feature the presence of Vincent Louis, Alistair Brownlee, Kristian Blummenfelt o Gustav Iden among others.
The French, double World Champion, was looking for his fourth consecutive victory this year in World Triathlon events after those achieved in Hamburg, Karlovy kary y Arzachena
Among the 11 Spaniards, Antonio Serrat, Alberto González, Iván Raña, Roberto Sánchez among others
The competition, the last world cup on the World Triathlon calendar, has been held in Sprint distance, where they have completed 750 meters of swimming, 20 kilometers of cycling and 5 of running.
The race has been broken from the start
The first to get out of the water were Henri Schoeman, Alistair Brownlee, Pierre Le Corre and Vicent Luis, leading the highly stretched group.
With some very exciting first meters with a group of 4 units with Brownlee, Schoeman, Le Corre and Luis pulling very hard trying to break the race.
In the passage through the first lap, the quartet already led Kristian Blummenfelt's group by more than 20 seconds
South African Schoeman stayed in the second round, leaving the trio of Brownlee, Le Corre and Luis leading the way.
The trio reached T2 with about 20 seconds of advantage over the Blummenfelt group, where Serrat, Sánchez Mantecón or Gustav Iden were among others.
In the first few meters of the running Luis and Brownlee with a strong pace left Le Corre. Behind the Belgian Jelle Geens was gradually closing the gap.
With 2 kilometers remaining, Luis and Brownlee were still in the lead with 6 seconds ahead of Le Correr and Geens who joined from behind.
In the final part of the test, the attacks between the heads began.
In a beautiful duel between the two World Champions with several changes of pace, trying to leave we had to wait for the finish line to see how the French Vincent Luis won the final victory
Alistair Brownlee has been second and the Belgian Jelle Geens third.
As for the Spanish Antonio Serrat has been fifth and Roberto Sánchez Mantecón eighth
More information shortly