Víctor Arroyo and Judith Corachán Champions of Spain of Triathlon LD 2021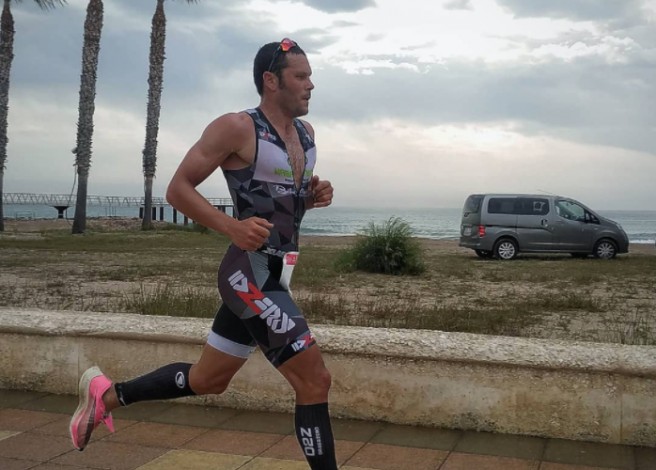 Today it was played in Platja d'Aro. (Girona) on Spanish Triathlon LD Championship in Platja d'Aro with some of the Top in the middle distance nationally and internationally
Among the favorites for the championship were Eneko Llanos, Judith Corachan,
Emilio Aguayo, Víctor Arroyo or Gustavo Rodríguez among others who started with more options for victory.
In the event, in addition to the competition for the national title, the professional event has been contested with top-level triathletes such as Cameron Brown, Emma Bilham or Timoty Vab Houtem
Male test
The test that began at 6:40 in the morning with the swimming segment where the first to get out of the water was Ángel Salamanca followed by Jaroslav Kovacic. 40 seconds behind came the chasing group with the favorites with Romain Guillaume in the lead.
In the cycling segment, Cameron Brown took the lead in the first kilometers of the circuit, leaving alone and reaching T2 in the lead with more than 6 minutes of advantage over Sam Laidlow.
In the foot race the Frenchman Laidlow was cutting distance to Cameron to reach him on the kilometer 20 of race.
From there Sam Laidlow He left alone to get the victory with a time of 8:36:29. The second classified has been Víctor Arroyo (8: 46: 45) and third Morten brammer (4: 48: 28)
As for the Spanish championship, the foot race has been highly contested and where Víctor Arroyo, thanks to a great marathon, was climbing positions to reach the lead at kilometer 29, surpassing Gustavo Rodríguez.
From there Víctor Arroyo he went forward being the first Spaniard to finish and taking the Spanish Championship. The second Spanish has been Jordi Montraveta and third Roger Manya.
Provisional classification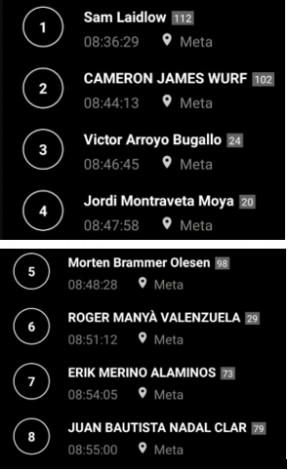 More information shortly
Female test
In the women's event Emma Biham was the strongest in cycling reaching T2 with 2 minutes ahead of Judith Corachán and Niki Bartlett.
In the foot race there was a very close first part of the race with the first three maintaining the distances until the middle of the race where Biham was distancing himself from his pursuers passing with 3 minutes of advantage over Bartlett and Corachán who were together.
Finally Emma biham He has taken the victory with a time of 9:32:02. Second has been Judith Corachán and Nikki Barlet third.
Judith with second place wins the Spanish Championship. Y Lucia Blanco e Ivet Farriolssecond and third respectively
Classification