Victor del Corral European Champion of Triathlon Cros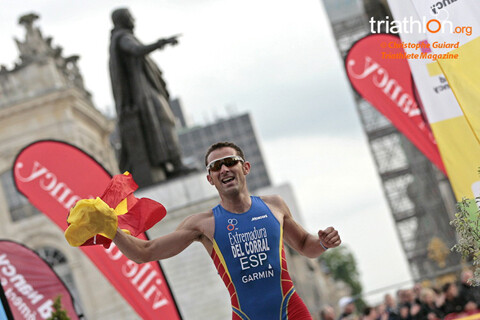 In a real challenge, due to the conditions of the terrain on which the Cros Triathlon European has been held, once again, Victor has demonstrated his strength and skill, proclaiming himself today the Cros Triathlon European Champion.
Madrid 02 June 2011.- Today the Cros Triathlon European Championship was held in the small town of Visegrad on the banks of the Danube river, a city that offers a spectacular setting and perfect terrain for holding a cros triathlon event.
The triathletes have had to face 1000 meters of swimming, a cycling lap of 25 km and a 9 km running race, on completely muddy terrain. Circuit that has been presented as a real challenge and that also required a high level of skill in the mountain bike circuit with sections of ascents and descents.
Just a few weeks after the proclamation of the Spanish Cros Triathlon Champion, in the Aragonese town of Caspe, the Spanish Victor del Corral, who was among the favorites in the race, has been able to demonstrate his superiority, once again reaching the finish , in first position "My feelings have been good in recent days, but this is not always definitive when it comes to achieving a good result, although I have to say that today was a good sign. I have recovered the good feelings that race, also in the water and the bike I have felt good "
From swimming he did not manage to get out in the first positions but little by little he went back up positions in the cycling segment, until he managed to overcome the head of the race, just at the arrival of the second transition, making an excellent foot race that has given him the title of European Triathlon Champion Cros.
"The first lap of swimming has been regular, the second much better, it seems that I am long distance. When I came out of the water, I had no idea of ​​the positions I had lost, but after a long transition I managed to start climbing. After a long and hard first asphalt climb, I start to feel good, I pass several triathletes without leaving an option to follow me. I get to the forest area, this is where I pass Stannard, I feel focused and strong. After a long climb up the track, I managed to catch up with Zadak, we went together for a short stretch but finally managed to get past him. It starts raining hard, I see Marceau ahead, I start to think that I am second in the race, I manage to catch him in a more technical area and I pass him by the entrance to the town, practically reaching T2 together. I am going at a good pace on the climb to the Castle, I look back and I do not see Marceu or the rest of the triathletes, I reach a slippery descent in which I go with caution, my foot begins to hurt, but I am only 2 km of the goal. The last surprise arrives, a tunnel full of water and mud a few meters before the finish line, which I finally reach in first position "
As soon as we reached the goal, Victor del Corral kept some strength to offer us a few words of thanks "The first thing is to thank all of you who trust me when things are going well and so well when they are not going so well. Especially on this occasion I want to thank the support and extra effort made by Jordi and Agustí Pérez, and the technical management of the Spanish Triathlon Federation who have made it possible for me to be here today "
In a year full of success for this Spanish triathlete, European Duathlon runner-up and Champion of Spain and Europe of Cros Triathlon, the next challenge will be Gerardmer's XTerra on Sunday 10th.
Results:
http://www.triathlon.org/results/results/2011_visegrad_etu_cross_triathlon_european_championships/5827/
Source: FETRI