Victor del Corral tells us his second place in the International Half Marathon of Lanzarote.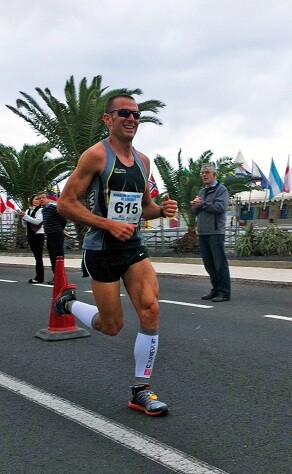 After only two weeks of training, and coinciding with my winter stay on the island, I set out to do a training-test in competition, taking advantage of the Lanzarote International Half Marathon.
Even with very few kilometers on my legs, the objective was clear, to maintain a stable rhythm from start to finish that would allow us to obtain valuable data on my state of form to continue training. The established pace was 3 "per kilometer, which would lead me to reach the finish line in 30h1 '.
On a windy day and on a fairly undulating circuit, the feat didn't seem very clear but I got ready to give it a try. The rhythm regulated at all times, was very comfortable in kilometers with favorable wind, although not in those in which the wind blew against.
Even so, and enjoying the test a lot, I got it, I got to the finish line in 1h23'19 ", I did a great workout, I shared a morning with many friends and it also helped me to achieve a second place in the final classification.
Now I will return to training, each day a little longer and more intense, and I will not return to competition until the end of January, in the 4 Stage Off Road Mountain Bike Race organized by Club La Santa.