Victor del Corral imposes himself with authority in Gerardmer's Xterra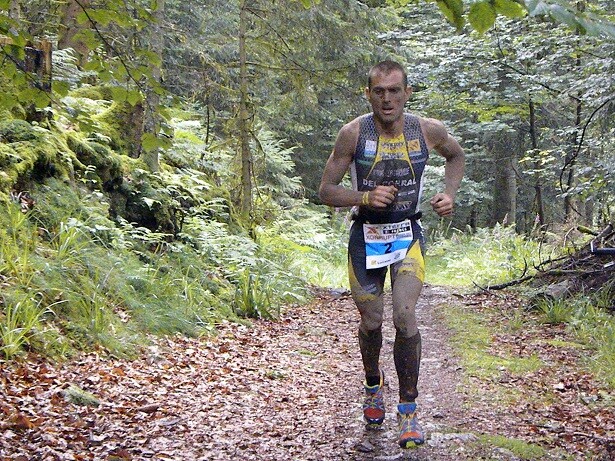 Victor del Corral, who was proclaimed the Cros Triathlon European Champion last week, has repeated victory this Sunday in the Xterra held in the French town of Gerardmer.
The Spanish has been imposed with total clarity with a time of 2:56:35 followed by Nicolas Lebrun more than 4 minutes and Olivier Marceu more than 6.
The xterra is a triathlon modality that has 1,5 km of swimming, 34 km of cycling and 10 km of running
The weather forecasts were 100% fulfilled and the race was held in the rain, making the start much harder due to the cold.
Already in the water, Victor came out with little difference with respect to the favorites, so everything pointed to arrive at a good moment of form and could achieve the victory. He tells us: "when I get to T1 I see that Lebrun is changing so I haven't been that bad either, I think about… why not a race like in 2010?" where I am in second position
The transition was executed quickly, leaving very close to Lebrun, although the sensations on the bike were not very good, he passed runners and ended up reaching him at the end of the climb, seeing that he was not comfortable, I take advantage of the moment, increased the pace and managed to leave him behind.
At the end of the first lap, Marceau passed third, 1 'behind the first, reaching him in the middle of the climb, at which point he decided to try to open the largest possible gap, to be able to face the race sector as calmly as possible, leaving off the hook, taking advantage of the hardness of the circuit that was totally muddy
Victor, arrives at T2 first, with some difference from Lebrun, "the foot race is tough and very technical, I don't want to trust myself either so I decide to do a strong first lap and see how things go."
When passing through the finish line, they communicate that the difference with the second classified, Lebrun, is 4 minutes, so in the last lap he was able to face it with much more tranquility
Victor tells us about his arrival at the finish line "A few meters from arriving the emotion invades me, I am going to fulfill one of my dreams to win an XTerra! Between applause and shouting I reach the finish line, I enjoy myself with the audience and I thank each and every one of them for their support throughout the entire test and their shouts and applause that make the arrival such a special moment, Merci à tous !"
The year 2011 is full of successes for Victor, since he has also managed to be European Duathlon Runner-up, European Triathlon Champion and Spanish Champion of cros triathlon, a competition that was held in the Aragonese town of Caspe.
Now Victor will head to Alpe d'Huez where he will prepare his participation in the Embrunman, (August 15), although now Maui haunts his mind