Victor del Corral and Azucena Lara win the Triathlon Cross Proaction BH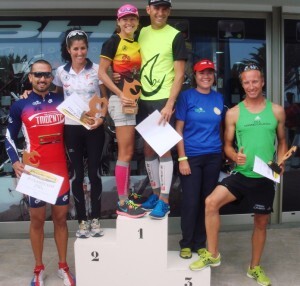 On Sunday, November 28, the first edition of the triathlon cross successfully organized by CC Tegala and the Playa Grande Club was held in Puerto del Carmen. Adequate climatic conditions accompanied the athletes and the large audience, accustomed to this type of event that is held in the tourist town of Lanzarote. The water was a bit cold and a light breeze was blowing which did not detract from the test.
In the male category, Víctor del Corral, current European champion of the specialty, prevailed in the test with a time of 1:14:51, surpassing the local by more than two minutes Miguel A.Duque Toribio, del Tridente-Tinajo, and in more than 3 minutes to Viktor Vovrusko of Columbus.
In the female category, Azucena Lara of the Titans rose clearly in triumph, followed by Rosa Maria Fontes, of Playa Grande and with Luisa Bernal del Tegala, in third position.