Victoria of Francesc Sola in London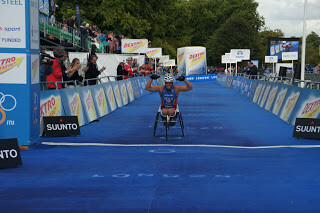 Francesc Sola has once again given us joy by winning last weekend in the Dextro ITU World Championship that was held in the city of London, in category TRI1 paratriathlon.
Here you have the first-hand chronicle of our champion:
"We repeat victory in the World Championship Series in London. This past Sunday we ran in the well-known Hyde Park in London, where the elite boys' and girls' race of the World Series was also held, including the Spanish Raña, Gomez, Mola, Murua, Rodriguez and Damlaimcourt, the two spectacular races where the Spanish showed that they are still there at the foot of the canyon.
The day of the race arrives, we go to the athletes area where they gave us the bib numbers and we finish setting everything up, the drink on the bike, the Mulebar gels well placed on the fork so as not to waste a second checking the HED wheels and leaving everything ready for battle.
More than an hour before they made us leave that area to go to the transition but we still had a lot of time left and it started to rain so we spent more than an hour in the rain with some wind and getting cold until an hour before I decided I put on the Zoot wetsuit now because I couldn't take it anymore.
We finally entered the transition and it's still raining, when I got everything ready I started to warm up because with the humidity, the wind and the cold it was a bit complicated and the good thing was when we got into the water that the temperature was higher than outside, so it was comfortable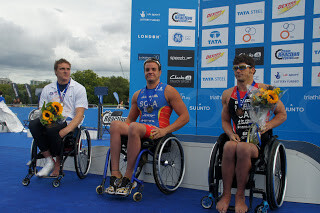 They start and I set a strong swimming rhythm, I felt very comfortable, the Zoot Prophet wetsuit is really wonderful and it helped me a lot to swim very fast and super comfortable, I realized that I left behind those in my category and more people When I passed the first buoys, I realized that I was quite alone but I didn't know if there were many people in front of me when, when I got out of the water, I found out that I was second overall and leaving 1.05' behind the second classified, I quickly took off my wetsuit, helmet, Mulebar and running, the first laps on the bike were fast and I gained a bit of an advantage, although the last two were smoother to recover a bit and get off to run comfortably with a good difference.

When I got on the athletics chair I realized that because of the rain they were not pulling the rings, I got quite nervous and tried to stay calm and finish the race, not give up and I did not want to think that anyone would get ahead of me and so it was, taking a look backwards to make sure that I was going well, I reached the finish line first with a time of 1:14:09h in a race that was not easy due to the rain and the nerves that had passed the weeks before because I did not know if I was going to run."