Virginia Berasategi wins the rowers challenge the ría from Bilbao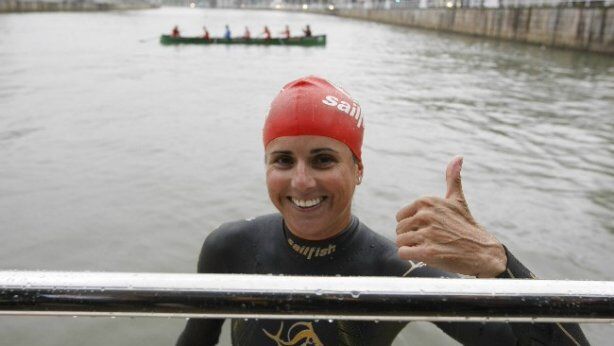 The triathlete Virginia Berasategi won in the estuary of Bilbao the challenge to the oarsmen of Deustu swimming in the rain in the first act of the activities scheduled for the Bilbao Triathlon scheduled the 19 in May.
Twenty-four hours after her return from South Africa, where she was sixth in an ironman event (24 miles), the woman from Bilbao dared this afternoon to challenge the youth crew of the Deustu Rowing Club's trainerilla and won it by a short margin. of two seconds.
Virginia Berasategi, a long-distance triathlon specialist -world champion in 2003 and holder of three bronze medals in as many World Cup events- swam 300 meters under a persistent curtain of water while the six rowers and the skipper covered the distance of 900 meters.
In the preamble to a new edition of what was already a brilliant Bilbao Triathlon in 2011, the manager of Innevento Sports -promoter of the competition-, Andrés Novo, commented to journalists that "the Bilbao Triathlon cannot be born and die on the same day, It is an ambitious appointment and for this reason we have designed a series of previous actions, the first being this one".
It was announced that on April 28 there will be a bike ride to recognize the cycling segment of the Bilbao Triathlon and a swimming, cycling and running training on May 5 and 6.
The promoters confirmed the total closure of registrations for the event on May 19 in Bilbao with 650, an objective achieved in just 30 days.
Source: deia.com