Virginia Berasategui hopes to "start a new stage as a triathlete"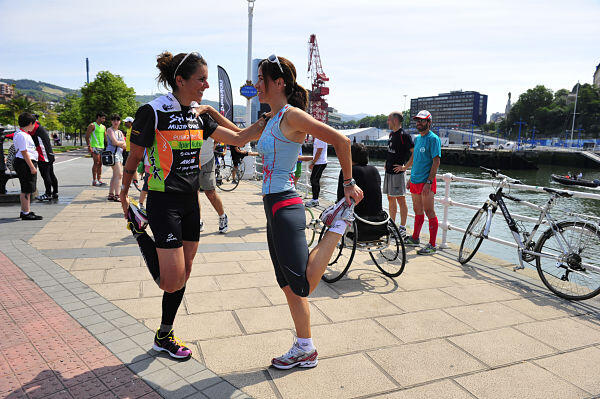 The best Basque triathlete in history continues with her recovery process. Sondika's was operated on her foot after the end of the Hawaii Ironman, the queen of his specialty where he returned to play a great role. The pain was too great to avoid the appointment with the operating room of the Athletics Club Ercoreka-Santutxu: «After my return from the island, I met with my doctor to assess the discomfort with which I had returned and to plan the rest period. The pain in my foot (Morton's Neuroma) continued and also the discomfort in my left knee, which luckily respected me during the Ironman. Even so, I had returned to compete with pain for another year, "he says.
And it did not end there: «The surprise came the day I was consulting with a new traumatologist specializing in feet and hands, whom my doctor had recommended. His safety, the good expectations along with his experience, made the decision 'easy'. Everything was very fast but the decision was to have surgery to remove the neuroma. In this way I was trying to end a torture that accompanied me in every training session and in every competition for 2 years », explains Berasategui on the website Eurotri.
«The first night was terrible. I had a lot of pain and could hardly sleep, mainly due to having also filed part of the bunion. Even so, the recovery began with great enthusiasm. With great enthusiasm. During those days there were many messages of encouragement and expressions of affection, "the Biscayan athlete thanks.
But the light at the end of the tunnel can already be seen: «Having the possibility of enjoying triathlon, my sport, in short, my lifestyle, in full condition, fills me with strength and energy. And I'm working on it. After a few days without being able to support my foot, I have already been able to take my first steps with shoes. I have even dared to do a little outing on a touring bike. I have not forgotten the gym either, to which I have gone almost daily to lose as little strength as possible. And I have also taken the opportunity to attend a Yoga course, with one of the best teachers in the world.
Virginia Berasategui He is already counting the dates to be able to fully rejoin his profession, in which he is in a second or third youth at least: «From now on and when the stitches and staples are definitively removed, we will see how my foot responds, but the planned recovery will begin. The idea is to be able to get into a swimming session and take advantage of the winter season to do mountain biking, something that I had forgotten in recent years and that will surely come in handy. Besides, I do not rule out taking a trip to train in height and I will repeat some concentration with other triathletes ».
The future, therefore, looks rosy for an athlete who continues in the gap reaping great results and above all, enjoying what she does every day, which is not easy after so many seasons: «2012 is exciting, with a World Championship in Vitoria and with several tests in the head to smile again doing what I like the most: swimming, cycling and running ».