Virginia Berasategui and Eneko Llanos go to the Ironman of Hawaii willing to improve the position of last year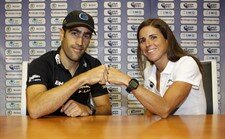 Spanish triathletes Virginia Berasategui and Eneko Llanos They leave this week for Hawaii, where they will finalize their preparation to participate in the Kona World Championship (better known as Hawaii Ironman), the toughest test of the specialty, on October 8.
Berasategui and Llanos, both awarded a scholarship by the BAT Basque Team Foundation, aspire to improve their marks from last year, an edition in which the Bilbao woman obtained fourth position, and the Vitorian, seventh.
This test, which reaches its thirty-fourth edition this year, requires extraordinary preparation and endurance from its participants. Last year, Virginia Berasategui used 9 hours and 16 minutes on the route, and Eneko Llanos, 8 hours and 22 minutes.
Virginia Berasategui arrives in Hawaii, where she already rose to the medal table by achieving bronze in 2009, after achieving tenth place in the Tronman European Championship, held in Frankfurt (Germany) in July, and fifth in the Wildflower Triathlon in San Antonio California (USA).
In addition, this year he has been able to add to his resume the victory in the first edition of the Bilbao Triathlon. Berasategui (Bilbao, 1975) is the Basque triathlete with the best record, with a 17-year career in international competition since her first successes in the junior category.
Among other triumphs, she has been twice winner in the Ironman of Lanzarote (2004 and 2005), winner of the Long Distance World Championship in 2003 in Ibiza and twice European long distance champion.
For his part, Eneko Llanos has just won for the second consecutive year the victory in the ICAN of Mallorca, a triumph to which this season he adds those achieved in the Ironman Texas and the first edition of the ICAN Marbella, as well as second place in the Triathlon of Zarauz.
Llanos (Vitoria-Gasteiz, 1976) has to his credit the 2003 Ibiza World Cup, three Xterra world titles (2003, 2004 and 2009), and a second place in the Hawaiian Ironman in 2008, with two other editions in the which was placed in the top ten of the Kona test.
Source: europapress.es