Volcano Triathlon, the little brother of IRONMAN Lanzarote
You can already sign up for the test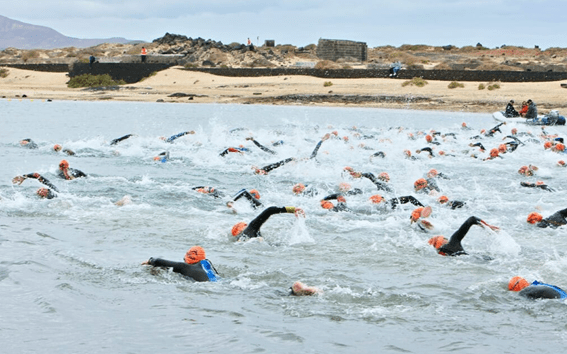 On April 25, 2020, the 36th edition of the Volcano Triathlon, a triathlon in Olympic distance on the island of Lanzarote.
This test is one of the Longest national calendar, since it has been underway in 1984 and is chosen by many professionals to be tested before the start of medium and long distance competitions.
Last year they won the test Emilio Aguayo and Lucy Charles.
Organized by the Club La Santa
The event is organized by the Club Santa and will have exit and goal in its facilities.
The Club La Santa, also organizes on the island, the IRONMAN Lanzarote, which is disputed in the month of May and of IRONMAN 70.3 Lanzarote in the month of October, so you could say that he is the little brother of these tests.
The circuits
The 1.500 meter swimming segment will take place in the quiet lagoon of Club La Santa, An ideal place to swim. The wetsuit is allowed.
As for the 40-kilometer cycling segment, it has a route that takes participants to Caleta de Caballo, Soo, until reaching Caleta de Famara.
Finally, the two-lap foot race will end in style with the finish line at the La Santa Club stadium.
There will also be an aquatlon for the little ones
The little ones can also enjoy the event by participating in the Volcano Kids, a social race (swimming and running) for children aged between 7 and 17, which will take place at Club La Santa on April 24 in the afternoon.
The registration process is open
You can now enroll in the test with a discounted price.
Further information: https://www.clublasanta.com/volcanotriathlon