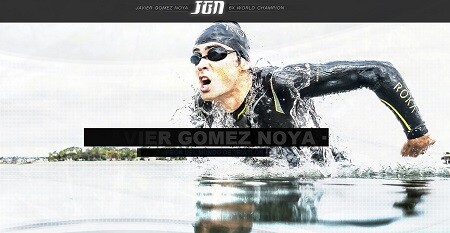 Our champion has launched his new web adapted to current technology
After the successful 2014 season in which he won the official world title of the International Triathlon Union as well as that of Half Ironman of the World Triathlon Corporation, Javier Gómez Noya Not only has he renewed with all of his sponsors but new companies come to support him.
The main sponsors will be two: for the sixth consecutive year they will cycle on bikes SPECIALIZED, world reference brand for technology, quality, sales and performance. Likewise, helmets, shoes, aerodynamic wheels and cycling training clothes are of this brand. And, for the second year, the competition clothes and the wetsuit for swimming will be of the American brand ROKA.
All other material brands remain true to the world champion as official sponsors. With more than 10 years of relationship is the world leader in sports glasses OAKLEY; MIZUNO it's still his athletic shoes, MULTIPOWER sports nutrition and SRAM the components of the transmission of their bikes.
Novelty in 2015 are POLAR, the Finnish brand pioneer in the field of heart rate monitors and GPS. AND COMPRESSPORT, with its socks and other compression garments, ideal to promote muscle recovery.
The figure of Javier Gómez Noya, being currently one of the most prestigious and admired national athletes, has aroused the interest of companies outside the sport. Yes in 2014 CERAMIC PAMESA it was the first great Spanish company that opted for the champion, this year the POPULAR, and Javi becomes one of the ambassadors of this great brand of Spanish banking. For your road trips you will continue using the OPEL Zafira Tourer, which incorporates the Flexfix system to hold the bikes.
At the institutional level, it will have the support of the Pontevedra City Council and its lifelong club, the Cidade De Lugo Fluvial. And, given the great results achieved in Olympic Games and World Championships, he will continue to enjoy the maximum scholarship of the ADO Plan. With the support of all these brands, companies and institutions, he faces 2015 with the maximum enthusiasm and motivation, willing to give them back the support and trust they place in him.
Finally, it should be noted that the web www.javiergomeznoya.com It has been redesigned, becoming more current, compatible with tablets and phones.