Xavi Boneta fourth in the first Trigranprix UK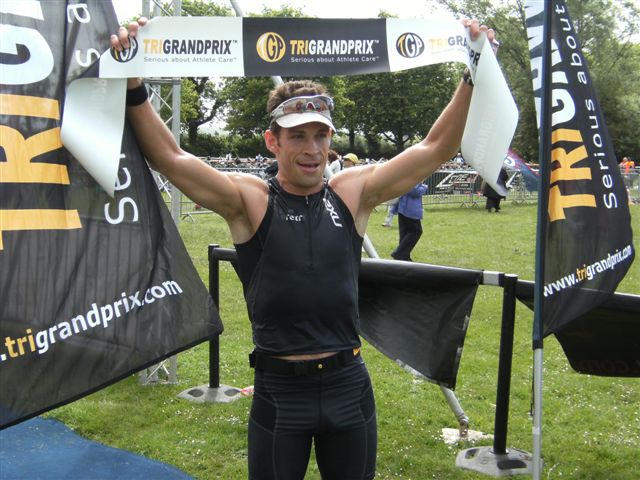 Spaniard Xavi Boneta finished in fourth position on the first stage of the TriGranPrix circuit that was held in the United Kingdom on May 22nd.
Jonathan Hotchkiss (United Kingdom) training partner of Chrissie Wellington and Julia Grant (New Zealand) were the fastest in the 1st stage of the TriGrandPrix 03:56:05 and 04:23:23 respectively.
PulseLearning, GU Gels, Zone3 and Brooks were the main sponsors of the race. On a sunny day but with winds exceeding 30km / hour they made the UK TriGrandPrix a tougher race than expected! Lucy Gossage (2nd finish) commented "I really enjoyed a very well organized race but extremely hard due to the wind [Lucy Gossage].
The first out of the water were a trio led by Jonathan Hotchkiss, Tom Sturdy and Doc Snook. A few minutes later Xabi Boneta and Raul Amaitrian came out to hunt down the leading trio. Jonathan Hotchkiss left the 90kms circuit alone from start to finish while a strong Xavier Boneta marched 4th and Amaitrian 7th who would then surprise with a spectacular partial on foot.
The 21 kms through Emberton Park national park consisted of 4 loops around the lake. Jonathan knew how to keep the advantage with the group of pursuers. Raul Amaitrian did a stratospheric partial 1:03:04 which allowed him to go from 7th place to second! Boneta had a great 1:09:44 run to get 4th place.
In the women's race, Julia Grant was the fastest to get out of the water 29:13 and during the 90 kms she kept the distance with the local champion Eimear Mullan (winner of the last tristar) and Lucy Gossage, triathlete of the K-swiss team. Julia entered the last transition with a 3 minute lead over Lucy and 5 minutes over Mullan. Just 23 seconds separated Gossase from Julia in a race that nearly ended in a sprint.
Then the long-distance triathletes from the United Kingdom and some locals like Xavi Mora from Barcelona entered the finish line, who reflected the beauty of the national park and the racing environment. The day was closed by Jonathan Hotchkiss at the awards presentation:
"I am happy to see the growth and progression of TriGrandPrix. This race was just the beginning of a great 2011 where I plan to run all the TriGrandPrix! " [Jonathan Hotchkiss, TriGrandPrix Champion 2011]
The next appointment of this circuit will be in the BH Zarauzko Triatloia 2011