Zarautz celebrates this Saturday the triathlon with 650 athletes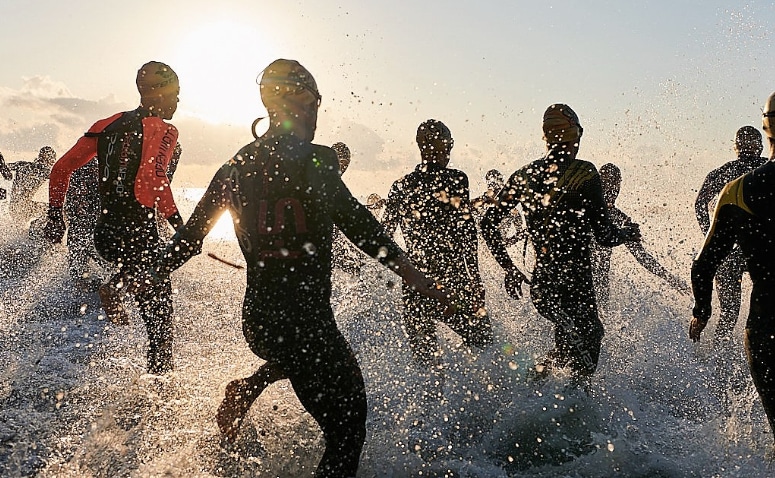 The managers of BH Zarauzko Triatloia 2012 and the town council yesterday offered the details of the event that will celebrate its XXVI edition this Saturday, with 650 athletes (the list of participants was completed in three hours). As explained by the mayor of Zarauztarra, Juan Luis Illarramendi, and the president of Zarauzko Triatloi Elkartea, Inaxio Alcucacil, "the demanding circuit" will come with changes compared to the previous edition.
Thus, after the swimming journey that will start on the Getaria beach and will be opened by the triathlete Ainhoa ​​Murua from Zarauz -as a tribute for participating for the third time in the Olympic Games- the main differences will take place on the cycling circuit, which will become tougher with the climbs to the heights of Meagas (twice), Aia and Orio. Towards the end of the circuit, on the Aia slope, levels of 18% will be reached at times. For its part, the foot race will take place on the usual circuit, in Zarautz. The lane reserved for the test will be closed to traffic from 14.30:18.30 p.m. to XNUMX:XNUMX p.m.
The appointment will not miss the following elite professionals: Eneko Llanos, Mathias Hecht, Mikel Elgezabal, Stephane Poulat, Benjamin Sanson, Saleta Castro, Ameli Le Gall, Ramón Ejeda, Jose Almagro and Jon Unanue.
The successful triathlon will once again turn Zarautz into a great party and the organization will offer parallel activities. Thus, the Expo Zone will open on Friday and at 18.30:XNUMX p.m. Hektor Llanos will offer a demonstration of bike-fit (system to study the posture on top of the bicycle). There will also be workshops for children. Already on Sunday (10.00) the solidarity event Triatloi Txikia will be held in Beraza, with the aim of raising money for the association of parents of children with cancer Aspanogi.
newsdegipuzkoa.com